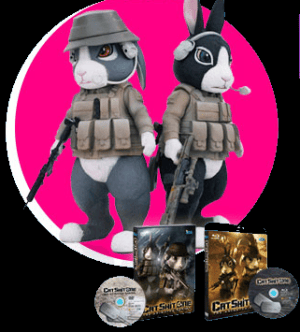 Earlier tonight, I received a letter from IDA Entertainment, regarding Cat Shit One. Apparently, the company is hosting a promotion for their DVD and Blu-ray releases of Cat Shit One. Customers that purchase the title between now and next Monday can enter to win a figure set based on the title.
This is one of those little things that makes a tough pill easier to swallow. Providing an incentive like this is an interesting take, as it provides something of real value to fans, while also promoting the product to those who are on the fence. Whether it will work or not remains to be seen. $20 for a 30-minute feature is still steep, and a lot of fans are loath to spend $50 on a 13-episode set. However, it is always nice to see organizations try to promote via alternative means.
Update: 2/22/2011: Unfortunately, I spoke a bit too soon it seems. About 30 minutes ago, I received a follow-up e-mail stating that, due to an undisclosed reason, they will be unable to proceed with the raffle. I've honored their request by removing links to the former contest page from this post.