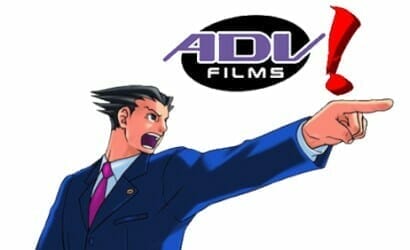 Earlier today, news broke that FUNimation filed suit against a number of companies in the anime industry. Specifically, they've filed suit against the following nine parties:
A.D. Vision co-founder John Ledford
A.D. Vision
AEsir Holdings
Seraphim Studios
Sentai Filmworks
Sentai Holdings
Sxion 23 (Section23 Films)
Unio Mystica Holdings (Switchblade Pictures)
Valkyrie Media Partners
FUNimation is currently seeking $8 million plus interests, attorney's fees, and other costs under the allegations that the defendants owe them "an amount to be proven at trial but currently estimated."
Already, we're seeing the discussions flare up. People are starting to use this lawsuit as ammo for industry bashing. Excitable fans are drawing conclusions that FUNimation or Sentai or whomever is on the verge of folding, and need the money, that this is a move by FUNimation to monopolize the industry, or even that this is an attempt to kick these companies down at the knees.
And at this point, it's all baseless speculation.
After reading through the information and looking into the information available, I can honestly say that it's impossible to say, with any conviction, that either party is in the wrong. No evidence was presented: no proof of these debts was presented, nor was any proof of FUNimation's claim (or the defendants' responses) hold any water. It's basically a giant, expensive game of "he said she said" at this point.
To break the claims down, FUNimation alleges the following:
ARM Corporation had an agreement with ADV Films, which granted ADV the rights to 30 titles for an agreed-upon price.
ADV didn't keep up with the payments, and eventually defaulted on the debt.
FUNimation was granted the right to enforce this agreement by ARM before the ARM dissolved, making FUNimation a creditor to the debt.
A number of former ADV Films executives created a gaggle of new companies.
ADV never paid their debt, but instead sold the company's assets (which included remaining titles, equipment, inventory, the office lease, and most other tangible items) to these new companies for far below a reasonable market value.
ADV declared bankruptcy with no assets, which means they paid nothing their creditors due to having nothing to liquidate.
The transfer of assets was made with an intent "to defer, hinder or defraud the creditors of ADV," and that the new companies were still on the hook for ADV's contractual obligations.
Due to the implied intent, FUNimation wants the courts to make all of ADV's asset sales "as null, voided and without effect," which would cause all licenses, equipment, and the like to revert back to ADV. If this were to happen, FUNimation could come down on ADV to collect the $8 million, be it in the form of cash, or other assets.
Most of the defendants, namely all players save Ledford and ADV, have already filed a counter-claim against the charges levied. Their counter-claim consists of the following arguments:
The companies didn't exist during the time of the ARM agreement
They don't have any obligation to FUNimation, due to their non-existence
FUNimation wasn't involved with the original contract, and can't claim direct damages from it.
The lawsuit was filed past Texas's two-year statue of limitations for civil cases
The defendants are asking that the courts throw out the agreement, and declare FUNimation's contract as invalid. This would release the companies from any debts and obligations that FUNimation allege that they owe. In addition, they are asking for attorney fees, costs, and other expenses as damages. Section23 Films released the following to Anime News Network:
Funimation's lawsuit is completely without merit or basis and we look forward to proving it when we have our day in court.
Even with the information broken down, the whole case looks like a mish mash of heated arguments and angry accusations from both sides. And, at this point, it is. We won't know anything until the case actually gets rolling. And, with the first pre-trial meeting being held on October 5, we'll be waiting a while. FUNimation requested a jury trial, which ensures that, if this gets past the pre-trial phase, we'll be in for a very long disclosure process.
In the best of cases, a settlement will be reached in the nine months between now and the meeting, However, it's hard to say whether this will actually happen at this point. It's the beginning of the year, and nine months is plenty of time for things to get better, or to get worse.