Yesterday, Discotek hit the anime with a bit of surprising news. The company announced that they acquired the domestic rights to Yowamushi Pedal (Yowapeda). The company broke the news on Facebook with four other titles:
Lupin III: Daisuke Jigen's Gravestone (Lupin the IIIrd: Jigen Daisuke no Bohyō)
Iria – Zeiram the Animation
Little Mermaid
Go Nagai World
That's not to say these four titles aren't interesting.
Iria is one of the most traveled licensed today, originally being released by Central Park Media in 1996, and being rescued by Media Blasters in 2001. Toei's Little Mermaid has long been a fixture in dollar stores, with other hidden gems like Protectors of Universe and Defenders of Space (These two are both so bad that they're worth watching!). CB Chara Nagai Go World is a forgotten classic, that mashes all of Go Nagai's characters into a silly three-episode OVA.
And Lupin, well, Lupin has been incredibly kind to Discotek in the past few years. That they would acquire the latest film seems like a no-brainer, in that light.
Given that Discotek's specialty is in the older, more obscure shows, their pick-up of Yowapeda is just a bit surprising. Yowapeda is a show that was expected to be a lock for a license in North America. The show's combination of strong writing, fantastic characters, and an absurdly polished presentation made it a dark horse favorite among fans and critics alike. It was a sports show, but it was a sports show that didn't always trod along the same ground as, say, Ashita no Joe or Princess Nine.
Yowapeda speaks to anime fans by putting the main character into their shoes. The main character is an anime geek, a social reject that finds his place in a world outside his comfort zone, with people that build him up to excel. Well… kind of.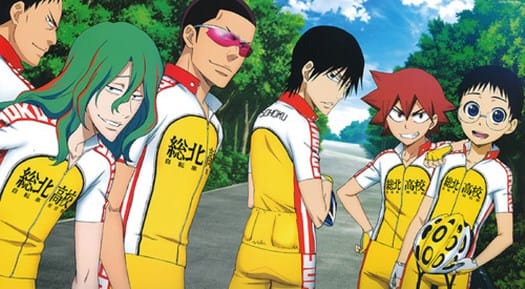 It's a series that's just overflowing with charm that's a joy to watch. And the fans have rewarded this by coming back week after week, giving the show a devoted cult following that's only grown since the première.
What surprises me, though, is that popular speculation never factored Discotek into the equation. Yowapeda falls outside of the company's established specialties, and seemed like a likely target for the bigger players, like Sentai Filmworks and FUNimation.
That said, though, the series was licensed, and that is something many of us can agree upon being a universal good, overall.