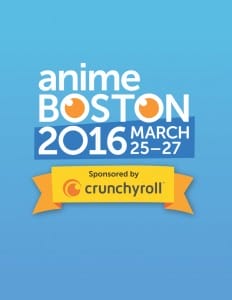 Though it feels like only yesterday, the big event is finally here. Tomorrow, tens of thousands of eager fans will converge at Boston's Hynes Convention Center to attend New England's largest anime event. Tonight, though, is silence.
The hype is real, though. Don't ever think otherwise. Anime Boston is upon us, along with Sakura-Con in the great state of Washington.
For some, it's a chance to catch up with friends, family, and just about all of the anime a person could ever want. For others, it's a chance to shop for those rarities and oddities that eluded fans through the year. And for some, it's an adventure. It's a wonderland of new nooks and crannies, filled with costumed crusaders and crazy new experiences that have never been seen before!
I've covered Anime Boston since it began in 2003. And every year, I find something new to marvel at. I liken the experience of covering the event as stepping into a brand new world, where the sights, the sounds, and the sheer excitement of the moment is always at its most positive. The people seem a little happier, and the world seems like a much more colorful place.
Working as a reporter for the event, that energy, and that sheer excitement seems to take on a different meaning. Those of us who cover the event, we take in the same sights and sounds, we as enjoy the same panels and chow down on the same hurried meals as everybody else. We enjoy the cosplay and (more than likely) spend far too much in the dealer's room and artist's alley.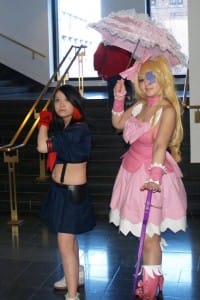 Behind the scenes, though, there's another layer to the madness. We have schedules to follow, people to talk to, and articles to prepare. Our hours are long, our plans are set in stone, and the very idea of "sleep" turns into this cruel joke that taunts us as we scramble toward that next deadline. Through it all, we find ourselves falling back into those old habits, falling back on those old habits like tobacco, sugar, caffeine, or otherwise to keep us rolling with the cruel march of time. By the end of the con, our nerves are shot and our stares seem to reach for thousands of yards.
And yet, we live for that experience. Year after year, we work and clamber to build the perfect coverage lineups, to bring that experience of actually being there to folks who may not have that chance. We gloat silently when we scoop other publications, and we compete with ourselves to be the absolute, very best that anyone could hope to be. We're bringing our "big game." We're putting our skills and our stamina to the test as we work this crazy blur of a weekend, which will inevitably leave us battered and beaten down, barely able to muster the strength to last the train ride home.
It's crazy, and it would likely raise red flags with more than a few labor boards. But, ultimately, it's who we are. It's this coverage that we've spent years aspiring to reach, as we try to push ourselves to be just a bit better than last time. The folks we meet, the sights we see, and the ability to share those experiences is something that few of us would trade for the world.
So, from this crazy bastard to all of you, thanks in advance for reading. We wish you a great weekend, a Happy Easter, and the best of times as you join us for the weekend.
Note: I promised a final countdown in the title, and I'm not about to disappoint!