Publisher: Funimation
Is This A Screener? No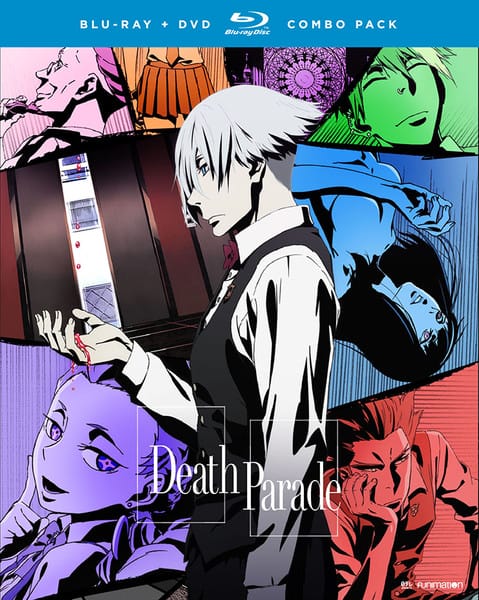 In 2013, studio Madhouse released a 25-minute short titled Death Billiards. It's no exaggeration to say that anime fans around the world were absolutely in love with the title. From the premise to the execution, fans were raving about this release.
When news broke that the short would be adapted to a full TV series called Death Parade, fans went mad once again. The series aired in Winter 2015 to rave reviews, which brings us to today. Funimation just released the series on home video in North America.
Death Parade is about as unique as a series can be in this modern era. In this series, the primary story takes place in a lonely bar, which is seemingly in the middle of nowhere. Two people arrive via elevators, with no memory of who they are or why they are there. All they know is that they are being forced to partake in a random game where their lives and souls are on the line. The drama that unfolds as these games play out is gripping, to say the least. The darker side of each person's nature inevitably starts to shine through as they realize what is truly at stake with each game.
While there is a central plot that unfolds over the course of the show, the real appeal lay in the poor souls who appear before the stoic bartender and his assistant. These people always feel like real humans, whom you might meet on the street. That's also what makes these tales so hard to watch at times.
Death Parade is not a series for everyone. Still, it stands as something totally different from countless other shows that are released season after season. It's a show that will undoubtedly be remembered fondly, and praised by future generations as a darkly unique masterpiece. If you're looking for something a little more twisted, a bit more morbid this holiday season, be sure to add Death Parade to your collection!
Purchase This Title:
Death Parade Blu-ray/DVD – $45.49
from: Right Stuf, Inc.