In the first week of 2019, a Moonie friend and I were in the back space of one "The Hive", one of Toronto's many eSports bars. We didn't come for a LAN game, for a few rounds of Smash Brothers, or to watch people play Dragon Ball FighterZ. What we came to see was driven by a Super Famicom, and brought to life in the glow of a thirteen-inch cathode ray tube TV. Today, we were here to see Bishoujo Senshi Sailor Moon S: Jougai Rantou!? Shuyaku Soudatsusen: a twenty-five year old Sailor Moon S fighting game that had been developed by Arc System Works. The studio would famously go on to develop the Guilty Gear series, Blazblue, and Dragon Ball FighterZ, among many other fan favorites, but that's another story for another day.
Personally, I never heard of this game before my Holiday vacation. My only prior experience with Sailor Moon on the SFC/SNES had been a mediocre beat'em up game that I had discovered in a ROM collection more than ten years prior. It was by random chance that that someone I followed on Twitter retweeted the most interesting thing I'd read in a while. There was a Sailor Moon S fighting game, it had gained serious interest in the Fighting Game Community, and Toronto, Canada was one of the largest scenes for its play.
Shortly after retweeting my amazement with this revelation, Corey 'Missing Person' Lanier ( @JTMMissingPersn ) replied with an invite to see it played at 'The Hive' on the first Wednesday of 2019. I was on vacation, it was Sailor Moon with high level serious play, and the venue was a twenty-minute streetcar ride from my apartment. I was in.
The venue looked fairly high end with a strong interior style, and a bar that served 'gaming' inspired cocktails. Several screens around the bar and dining area displayed live game streams, while others had players huddled around, playing Super Smash Bros. Ultimate. The back of the facility featured a LAN center, stations for competitive console play, and a larger competitive station with cameras set up for live streaming and even a Neo Geo MVS. This was my kind of 'Sports Bar'!
How could a twenty-five year old game, developed by Arc System Works, go under the RADAR for so long, only to be noticed a few years ago?
I had a few major questions as to what I would see. Would they be taking the game seriously, or was this a joke? Would it be a bunch of Fighting Game Community personalities playing the game purely for its mechanics, while not understanding the origins of the characters and settings? Would it, inversely, be Moonies who took up the game due to fandom interest, who were grappling with the mechanics out of love for their favorite Sailor Guardians? And, most of all, how could a twenty-five year old game, developed by Arc System Works, go under the RADAR for so long, only to be noticed a few years ago?
The gameplay would prove to be serious, and the players a mix of both. Lanier was kind enough to fill me in on the details as to how the game's popularity arose.
I regret that I didn't record my conversation with Missing Person to make direct quotes, as I can only paraphrase what he told me. Bishoujo Senshi Sailor Moon S: Jougai Rantou!?, usually called 'Sailor Moon S', 'SMS' or by the hashtag "#ArcSysSMS" informally, had maintained a following in Japan since it's original release. Here in the West, though, the game went largely unnoticed until recently. It was only released in Japan, and the English dub of the Sailor Moon S anime TV series had yet to even start airing on networks like YTV or Cartoon Network.
Image Credit: Ashley Hakker
The game hit stores in the same time frame as Super Street Fighter II Turbo and many other fighting games, and there was little interest in a console-exclusive game for a "Girl's Anime". While I have little doubt that some die-hard Moonies imported the game to add to their collections and played it for the novelty, few would have shared the game for what it was.
It was only a handful of years ago that members of the Fighting Game Community took notice of Japanese players posting YouTube videos of the title. Recordings that broke down the game's mechanics and meta quickly sparked their interest. It took root first in New York and later in Toronto where, in 2017, it would be present at The Canada Cup alongside the other "Anime Games." "A Sailor Moon Fighting Game" on the roster attracted curious players, who came to take a look and even participate in the tournament, and it's popularity with the Toronto community rose from there.
For the most part, Bishoujo Senshi Sailor Moon S: Jougai Rantou!? Shuyaku Soudatsusen has reasonably enjoyable and balanced mechanics. There's enough slack in the timing needed to pull off special moves for the game to remain approachable by less-experienced players. As a result, the game is attractive to both newcomers, as well as veterans of other games who want to play something different than the usual fighting game fare.
When I asked if any potential players had been turned off by the game being based on a 'Girls Anime,' I was told that, outside of a few exceptions, no. It was a fighting game that was made well enough, so most players were interested. Only a tiny minority couldn't take the game seriously or thought that it would "make them gay," or something. On top of this, Sailor Moon fans took interest, and were welcomed with open arms to learn the game. The players I saw at The Hive were a mixture of long time fighting game fans, as well as Sailor Moon fans. (That's the reason I showed up that night, after all).
The game has gained enough traction to even warrant experiments in game modifications to improve accessibility or presentation. For example, when characters fight "themselves," the second player has their palette swapped to look different. Unfortunately, some of the alternate colors are too similar to the first player's, and it becomes difficult to discern which player is which. There are mods to fix this issue, and there are mods to include CD-quality audio to replace the classic SNES chiptunes. There's even a group looking at an English translation, to make stage selection easier for those who do not read Japanese and have been unable to memorize how each stage name "looks" in Japanese.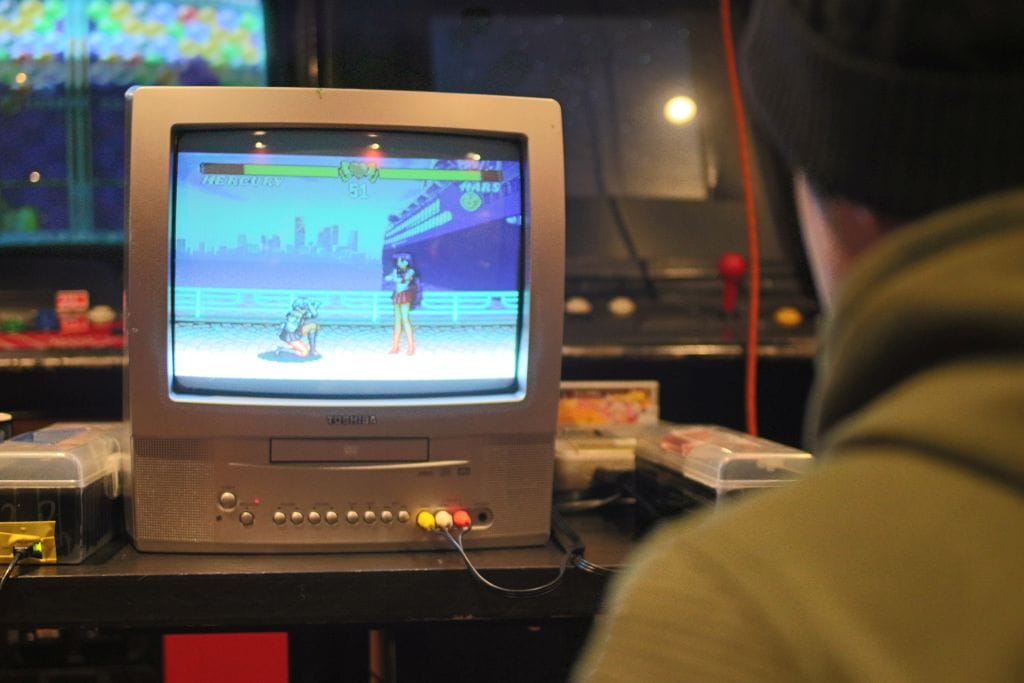 Image Credit: Ashley Hakker
At The Hive, the game was being played on a CRT and original Super Famicom hardware for latency reasons, though a set of input adapters were in use to allow players to use any modern USB arcade fight stick they wanted. After all, some weren't too keen on playing with Nintendo gamepads that were pushing a quarter of a decade old. I'd love to see the game played on a massive projection screen, but I understand the need to keep the the input latency as low as possible. There is an entire scene out there dedicated to keeping CRTs alive just for the people who play Super Smash Bros. Melee at the professional level.
It was genuinely amazing to see people with a serious interest in a Sailor Moon game, and playing it with far more skill than my button-smashing hands could manage. Pinball is far more my thing, but I think I'll be dusting off my Hori EX2 fight sticks, modified with Sanwa buttons, and inviting some friends over, so we can learn the game ourselves.
A lot of thanks to MissingPerson for answering my questions that night. At the time of writing, Greater Toronto Area fans can check the game out for themselves at every Wednesday at 7:30pm at "The Hive."
Header Image Credit: Ashley Hakker
Support Anime Herald on Patreon
This article is only possible thanks to our amazing Patrons. It's through their help that we're able to offer a high-quality publication that's ad-free and free to access.
Consider backing us on Patreon for as little as $1 a month, to support new content from our amazing team, and ensure that we can keep talking nerdy to you for some time to come.