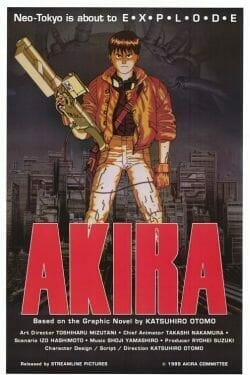 Yesterday, Variety revealed that Warner Bros. greenlit the live-action adaptation of Akira. The film is slated to begin filming between February and March next year. The feature will be produced by Appian Way, as well as Mad Chance's Andrew Lazar. Last July, Warner Bros. hired Jaume Collet-Serra to direct the film with a budget of $90 million. Currently, it is unknown as to what funding or staff will be attached to the project, aside from creator Katsuhiro Otomo who will have an Executive Producer credit.
Right now, I can hear the rage-filled of thousands of anime fans echoing through the internet. The Akira film received early infamy for being a "white-washed" version of the anime classic, where Tetsuo and Kaneda were to be replaced by a pair of caucasian actors. The film drew criticism from all angles: anime fans, film fans, manga fans, comic fans, even George Takei took (justified) shots at this presumed cinematic catastrophe. That's right – it got Sulu's wrath. Shit got very real, VERY fast. The film was presumed dead, and there was much rejoicing from the internet community.
In a way, I'm actually looking forward to seeing this get released. Not for the film itself, mind you. I fully expect it to be a disaster that will be looked down upon for years to come, both in the subculture and the general film community. Instead, I'm looking forward to the fallout that's sure to ensue.
Anime fans in particular are protective of their favorite titles, often with good reason. American film companies have, time and time again, proven that they're incapable of producing an adaptation that respects the original work while being entertaining. Of course, we also have yet to see a western adaptation of something that could feasibly be done on the budgets that these companies can acquire, as well. But I digress. With this in mind, it's only natural to see the virulent reactions and outright hatred that stem from these title announcements. However, I've yet to find a situation where the reactions are as telling as they are entertaining.
Reactions to these announcements tend to be fun because of the nature in which they arise. Message boards and social media erupt in what appears to be a giant temper tantrum. Cries for the creators' ill fortune, the studio's death, and the general displeasure of anybody that comes within a fifty-foot radius of the film stock, even if by accident, are simply fun to read. After all, it's not like these situations will come to pass, nor will anybody actually go to see the film (more on that in a moment). Instead, it's just an incredible venting of frustration toward something that none of us can really influence.
As a guide, though, these outbursts are incredibly telling. They show a hostility, a distate for the film, even before filming begins. It shows the market's full and total rejection of the film itself by the target audience. The target audience, or the sneezers, are a vital part of the success of films such as this. According to Godin, these sneezers would ideally see the film and encourage their friends and family to see it. This, would then lead to further referrals and further ticket sales as people continue to see the show.
At the moment, though, these sneezers don't exist. These vital individuals are pissed, and would be more apt to tell everyone to avoid the film outright at this point. With such a negative energy, the greater audience will remain apathetic or, at the very worst, turn against the film sight unseen. Either situation would be disastrous for Warner, who has invested funds into the film, and has a vested interest in making their seven-digit investment pay off.
I don't have a concrete answer on how Akira's live-action adaptation will turn out. However, its fate seems to be sealed even at this early date. If Warner hopes to create goodwill on the film, they'd need to take every step to show that they are taking care of the source material. Unfortunately, given the nature of Hollywood in general, I don't see this happening any time soon.