Retail Price: $199.98
Publisher: Sentai Filmworks
Is This a Review Copy?: No
What is it?
Chihayafuru is a 2011 series from Madhouse, which is based on Yuki Suetsugu's manga of the same name. The series tells a tale of love, loss, and playing cards, so to speak. The series revolves around Chihaya Ayase, a girl who basically thrived in her sister's shadow, as she lived to support her sister's modeling career. Chihaya's life is forever changed, though, when she meets a boy named Arata Wataya. Arata is a talented karuta player and, as he becomes friends with Chihaya, realizes that she could become a great player, herself.
This stirs something within young Chihaya. Instead of being a hanger-on, instead of being a source of support, she has her own dream: to become the greatest karuta player in all of Japan. Unfortunately, life has a way of being as cruel as it is kind, and she finds herself separated from Arata by the simple trials of life. Still, she's left with a passion, a mission. She sets forth to become the greatest karuta player in Japan, both for herself, and out of hope that she'll meet that bespectacled boy who granted her a dream so many years ago.
Flash forward to high school, where Chihaya's reuinted with childhood friend Taichi Mishima. Together, the two form the Mizusawa Karuta Club, and slowly gain a group of teammates. Together, they venture forth, with the goal of karuta greatness to push them ahead.
The series, which aired in 2011, was helmed by My Love Story!! director Morio Asaka at studio Madhouse. The series was long thought to be a "forever orphan," remaining confined to streaming services like Crunchyroll, or the high seas of the black market. So, to see it hitting the market is a bit of a surprise.
What's in the Box?
Chihayafuru Season 1 Blu-Ray
Chihayafuru Season 1 DVD
Two (2) Art Cards
Six (6) Character Cards
Companion Booklet: Episode Guide
Companion Booklet: Karuta Glossary
Extra Features
Textless Openings
Textless Closing
Package Shot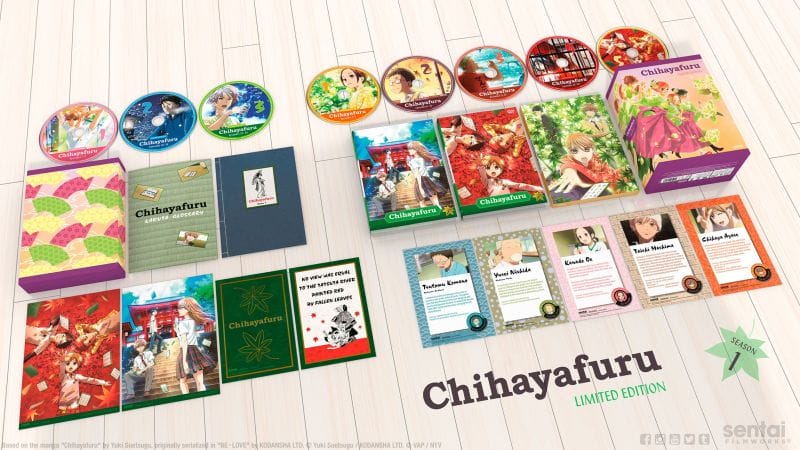 Boxart Blurb
Chihaya Ayase was a girl who never seemed to fit in. She never had much in common with the other kids, and her family was so obsessed with her older sister's modeling career that, sometimes, it was like Chihaya wasn't even there. Everything changes when transfer student Arata gets Chihaya interested in the world of competitive Karuta, a unique card-based game that requires lightning fast reflexes, an exceptional memory, and a keen ear. Chihaya is a natural, and she has the skills to take her to the very top. Suddenly, Chihaya has found her goal: to become the best player in Japan! It won't be easy, but when a girl has a dream in her heart, nothing else matters in CHIHAYAFURU Season 1!
Where to Get It:
Note: links to retailers are affiliate links.