The world of Love Live! is about to get bigger!
Earlier today, Dengeki G's Magazine revealed that a new series is in the works. The new title, currently known as Love Live! Sunshine!!, first appeared in a teaser image that places an unknown red-haired girl in the center of a beach setting.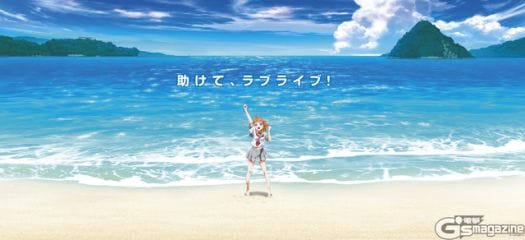 The text translates to "Help, Love Live!"
The image tease comes a day after the official Dengeki G's Magazine Twitter account revealed the cover of its latest issue.
2月28日発売の電撃G'sマガジン4月号の表紙を公開! 表紙は『ラブライブ!』。桜並木の木漏れ日の中で輝く、海未の笑顔が目印です。ラバーコードホルダーや『Charlotte』B2ポスター付録もお楽しみに! #lovelive #Key pic.twitter.com/RV0LFtbhRa

— 電撃G's magazine編集部 (@gs_magazine) February 25, 2015
Translation: The cover of the April issue of Dengeki G's Magazine, which hits on 2/28! This time, the cover is "Love Live!". Umi's smile is highlighted by the shining of sunshine, through the leaves of sakura trees. Also included are a rubber cord holder and a "Charlotte" B2-size poster! #LoveLive #Key
Source: Esuteru, Dengeki G's