It's almost time for the birds to take flight once again!
The latest issue of Newtype magazine revealed that three new characters will join the cast of Gatchaman Crowds insight, along with their actors. The series will add the following new members to the lineup:
Tsubasa Mizudachi: Kaori Ishihara (Cross Ange)
Rizumu Suzuki: Yuichiro Umehara (Cute High Earth Defense Club LOVE!)
Gelsadra: Kana Hanazawa (Yamada-kun and the Seven Witches)
Earlier today, the official Gatchaman Crowds insight website updated with full character profiles for the characters, along with new character visuals. The new members break down as follows:
Tsubasa Misudachi is a 16-year-old student in her second year of high school. She hails from Nagaoka, the second largest city in Niigata prefecture who finds herself as the newest member of the Gatchaman crew after coming into possession of a NOTE.
As the newcomer, she's assigned to be Hajime's new partner. She's fairly impulsive, and tends to slip into her native dialect when she's angry.
Rizumu Suzuki is a 19-year-old medical school student, who is attending a prestigious (yet unnamed) university. He's a realist by nature, and regards both Rui and the CROWDS as a danger. To counter them, he starts a mysterious organization.
Gelsadra is an extra terrestrial being, who was aboard a space craft that crashed into Earth. Due to the circumstances of his crash, grows emotionally attached to Tsubasa. Gelsadra is currently under the protection of the Gatchaman team because of his pacifistic nature.
In addition to the new character information, an updated key visual hit the web, which includes the newest cast members in a previously released scene: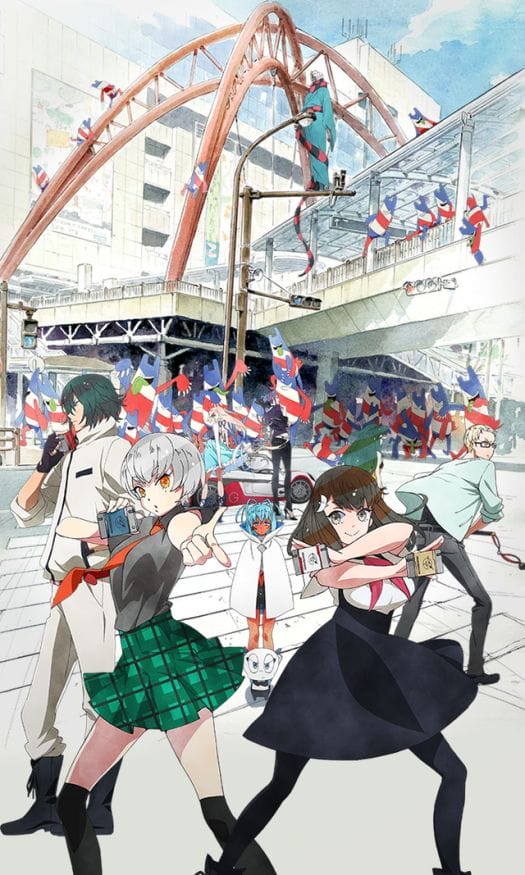 Gatchaman Crowds insight was first unveiled in October 2014, when Japanese website Mantan Web reported that the series was in the works.
In March, the official Gatchman Crowds website revealed that Gatchaman Crowds insight will hit Japanese TV in July. The site also confirmed that the following staff will return for the sequel:
Director: Kenji Nakamura
Series Composition: Toshiya Ono
Original Character Design: Kinako
Character Design/Chief Animation Director: Yûichi Takahashi
G Suit Design: Koji Nakakita, Kenji Andou
Animation Production: Tatsunoko Production
In addition to the returning production staff, it was confirmed that the cast from the first season would return to reprise their roles.
The first version of the key visual was released at this time as well. You can check it out below:
Source: Anime News Network, Gatchaman Crowds insight Website