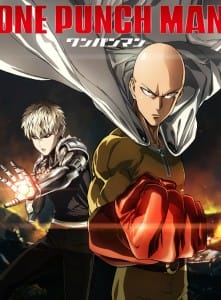 Whether it's crazy superheroes or amazing ninja, Viz has you covered.
Earlier today, Viz Media announced that they licensed the One-Punch Man anime series, as well as Boruto -Naruto the Movie-. At the moment, no further details on either license are known.
One-Punch Man is based on Yuusuke Murata and ONE's manga of the same name. The series will be directed by Shingo Natsume (Space Dandy) and animated by Madhouse (No Game, No Life). Tomohiro Suzuki (Tiger & Bunny) will handle the show's scripts, while Chikashi Kubota (Robotics;Notes) provides the character designs.
Makoto Furukawa will play the role of Saitama in One Punch Man, while counterpart Genos will be portrayed by Kaito Ishikawa. The series itself will begin airing in Japan in October.
Boruto -Naruto the Movie- is a sequel to The Last: Naruto The Movie. The film focuses on Boruto, son of Naruto who wishes to surpass his father. The god of destiny is a fan of plot twists, though, and Boruto finds himself as the apprentice of his father's former rival, Sasuke.
Hiroyuki Yamashita will direct Boruto -Naruto the Movie-, while the team of Hirofumi Suzuki (Naruto) and Tetsuya Nishio (Ghost in the Shell: Stand Alone Complex 2nd GIG, Naruto) provide character designs. Pierrot will produce the film's animation.
In addition, Viz revealed that Death Note will get a Blu-Ray release, though a release period was not announced in the panel.
A promotional video for One-Punch Man is currently available, which you can check out below: