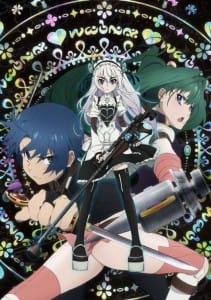 Soon, the journey of the Coffin Princess will begin anew…
Earlier today, Sentai Filmworks unveiled the English dub cast for Chaika The Coffin Princess. The series will star the following:
Chaika Trabant:Kira Vincent Davis
Toru Acura:Leraldo Anzaldua
Akari Acura:Joanne Bonasso
Frederica:Krystal LaPorte
Alberic Gillet:Blake Shepard
Nikolai Avtotor:Andrew Love
Vivi Holopainen:Luci Christian
Zita Brusasco:Caitlynn French
Mateus Callaway:Mike Yager
Leonardo Stola:Shannon Emmerick
Konrad Steinmetz:Rutherford Cravens
Karen Bombardier:Molly Searcy
Chaika Bohdan:Brittany Karbowski
David:Scott Gibbs
Selma Kenworth:Allison Sumrall
Cat:Krystal LaPorte
Guy:Kalin Coates
Ricardo Gavarni:Greg Ayres
Grato Lancia:David Wald
Layla:Katelyn Barr
Simon Scania:Luis Galindo
Roberto Abarth:Scotty Fults
Dominca Skoda:Krystal LaPorte
Yulia:Margaret McDonald
Marat:Kurt Bauer
Lavr:Stephen E. Mollering
Frol:Kyle Colby Jones
Shin Acura:Adam Gibbs
Jasmine:Amanda L. Baird
Young Toru:Cayla Coats
Cizeta:John Swasey
Foden:Tommy Baird
Theobald Setra:Rob Mungle
Chris Ayres will direct the adaptation.
Chaika The Coffin Princess is based on Ichirō Sakaki's light novel series of the same name. The series was helmed by Scrapped Princess director Soichi Masui at studio Bones. Nobuhiro Arai provided character designs on the project, while Touko Machida (Wake Up, Girls!) took charge of series composition.
The 12-episode series hit the airwaves in the spring 2014 broadcast season. A sequel, Chaika The Coffin Princess: Avenging Battle premiered during the fall 2014 season.
Sentai will release Chaika The Coffin Princess on December 15. Crunchyroll is currently streaming both seasons of the show on its digital platform.
Sentai previously released a trio of promotional videos to unveil the roles of Chaika, Akari, and Toru Acura, which you can check out below:
Akari – Joanne Bonasso
Toru Acura – Leraldo Anzaldua
Chaika Trabant – Kira Vincent-Davis
Source: Sentai Filmworks