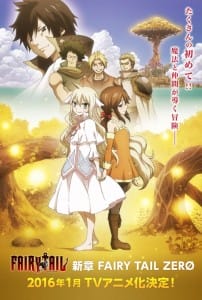 The history of the Fairy Tail guild is coming to life!
The latest issue of Kodansha's Weekly Shōnen Magazine revealed that Kana Hanazawa will play the role of Zera in the upcoming Fairy Tail Zero anime series.
Hanazawa joins the previously-announced cast, which includes:
Mavis: Mamiko Noto
Yuri: Katsuyuki Konishi
Warrod: Hiroshi Shirokuma
Precht: Yoshihisa Kawahara
Zeref: Akira Ishida
In the reveal Hanazawa, mentioned that she wants to deliver a faithful portrayal of Zera's strength and gentleness. She adds that she looks forward to being able to talk with Mavis.
Fairy Tail Zero is Hiro Mashima's prequel to his long-running Fairy Tail manga. The series ran in Monthly Fairy Tail magazine from July 2014 through July 2015, spanning a total of 13 chapters.
Kodansha Comics holds the domestic rights to the Fairy Tail Zero manga, and plans to release it in Summer 2016. Kodansha describes the series as follows:
This is it: The Fairy Tail prequel fans have been waiting for! Series creator Hiro Mashima himself draws an all-new series that depicts the founding of the Fairy Tail guild.

Many years ago, Mavis Vermilion was a servant on Sirius Island, mistreated by a guild master and his daughter, Zera. But Mavis stayed positive, because her mother once told her that fairies never visit people who cry about their problems. When the guild came under attack, Mavis pulled Zera from the wreckage into the forest. Seven years went by, and the powerful wizards Warrod Sequen, Precht, and Yuri Dreyer arrived on the island, seeking a powerful jade gemstone. This journey would change the course of magical history…
Source: Anime News Network