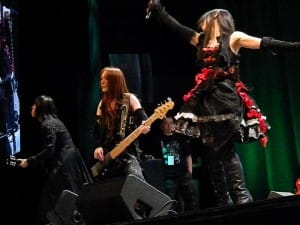 The empire of the fairies makes its grand return to the west in 2016!
Earlier today, A-Kon announced that J-Rock group Yousei Teikoku will attend their 2016 event as guests. The group is currently slated to perform at the convention. In addition, lead singer and voice actress Yui Itsuki (Kanokon: The Girl Who Cried Fox, Black Butler) will host an autograph and Q&A session at the convention.
Yousei Teikoku, which literally translates to "Fairy Empire", first formed in 1997. The group combines a Gothic Lolita visual flair with a sound that blends classical, J-pop, and heavy metal. The group has performed theme songs for a number of anime titles, including Future Diary, Katanagatari, and Qwaser of Stigmata.
Yousei Teikoku is attending via a an arrangement with EN Entertainment. Other confirmed guests for A-Kon 2016 include voice actors Todd Haberkorn Morgan Berry, and Kristen McGuire.
In 2013, the group attended and performed at Anime Boston.
Source: A-Kon