Crunchyroll's bringing a triple-dose of anime fun! The company announced that they're adding a trio of anime titles to their streaming lineup:
Both Lupin was added earlier this evening for viewers in the United States and Canada. Deltora Quest and Slam Dunk hit the service last night.
All 75 episodes of Lupin The Third Part 2 are available to Premium subscribers, and the first half was made available for Free members. Free members will be able to watch the remaining episodes next week.
Lupin The Third Part 2 originally aired in Japan frm 1977 through 1980. Seijun Suzuki served as Chief Director on the series, which featured character designs by the team of Kenji Kodama, Takashi Asakura, Takeo Kitahara, and Tsukasa Tannai. Jazz musician Yuji Ohno provided the show's soundtrack.
Crunchyroll describes Lupin The Third Part 2 as follows:
Five years have passed since master thief Lupin and his gang made their daring escape out of Japan and went their separate ways. Then one day Lupin, Jigen, Goemon and Fujiko each receive an invitation from Lupin for a reunion aboard the luxury liner Sirloin. Reunited on the ship, they discover Lupin didn't send the invitations and the reunion is a trap by a vengeful Mister X, the Leader of the Scorpion Gang! Foiling Mister X's plot while evading his ICPO nemesis, Inspector Zenigata, is all in a day's work for Lupin and his gang, as their heisting adventures around the globe begin again!
Slam Dunk saw its first 14 episodes released in dubbed format today. The series, which aired in Japan from 1993 through 1996, was overseen by chief director Nobutaka Nishizawa (Dragon Quest, Galaxy Express 999) at Toei. The team of Nobuaki Kishima and Yoshiyuki Suga wrote the show's screenplay, while Masaki Sato (INTERSTELLA 5555, Mermaid Forest) provided character designs. Crunchyroll describes the show as follows:
Hanamichi Sakuragi is a delinquent with a long history of getting dumped by girls. After enrolling in Shohoku High School, Hanamichi becomes interested in a girl named Haruko who loves the game of basketball.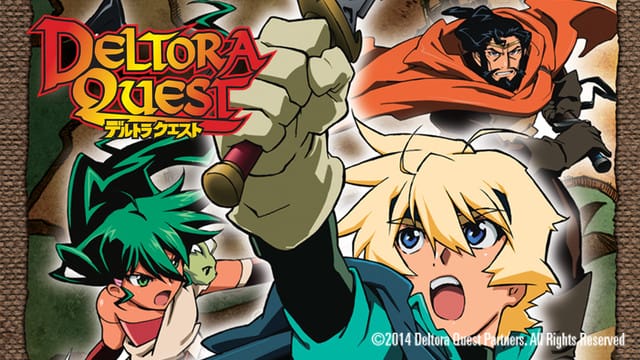 Deltora Quest is a 2007 series, based on Emily Rodda's manga of the same name. The series was directed by Mitsuru Hongo at Oriental Light and Magic, with character designs by Hiroyuki Nishimura. The team of Akira Okeya, Kuniaki Kasahara, Masahiro Yokotani, Natsuko Takahashi, and Reiko Yoshida collaborated on the show's scripts.
Crunchyroll describes Deltora Quest as follows:
Full of mystery and action, the heroic Lief must venture into the darkest and most terrible places in Deltora to find seven magical gems that can free everyone from the evil tyranny of the Shadow Lord. With his friends Jasmine and Barda, Lief vows to recapture the gems and return them to the magical Belt of Deltora before it's too late.
Source: Crunchyroll (Thanks to Daniel Zelter for the heads-up!)