Cooking is so fun! Cooking is so fun! Now it's time to take a break and see what we have done!
No more waiting! Proud to announce: Sentai Filmworks licenses #AzumangaDaioh! https://t.co/S7BvwCHzYy pic.twitter.com/ua0IW279Hm

— Sentai Filmworks (@SentaiFilmworks) January 20, 2016
Yay! It's ready!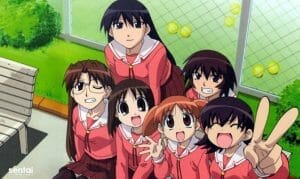 Earlier today, Sentai Filmworks announced that they acquired the domestic rights to Azumanga Daioh. The company will release the title on DVD and Blu-Ray in the near future under its "Sentai Selects" label. No details on the set are currently available, but the series will be offered in both dubbed and subtitled formats.
Azumanga Daioh is a slice of life comedy that adapts Kiyohiko Azuma's manga of the same name. The series was directed by Hiroshi Nishikiori (A Certain Magical Index, Futari wa Milky Holmes) at J.C. Staff. Yasuhisa Kato (Happy Lesson, ToHeart2) designed the characters, while Ichiro Okouchi (Guilty Crown, Planetes) tackled series composition. Masaki Kurihara scored the show's soundtrack.
ADV Films originally released Azumanga Daioh in North America. The license has been up in the air, though, since ADV closed up shop in 2009.
Source: Anime Herald