It's time to take another trip to the offbeat world of Fate/kaleid Liner Prisma Illya!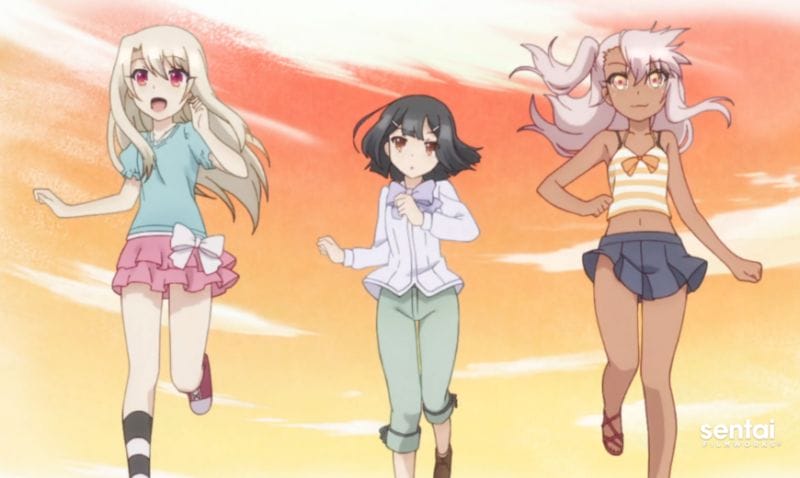 Earlier today, Sentai Filmworks announced the English dub cast for Fate/Kaleid Liner Prisma Illya 2Wei!. The series will star the following:
Illyasviel von Einzbern: Cynthia Martinez
Miyu: Caitlynn French
Kuro: Kira Vincent-Davis
Luviagelita Edelfelt: Shelley Calene-Black
Rin Tosaka: Carli Mosier
Ruby: Joanne Bonasso
Sapphire: Molly Searcy
Suzuka Kurihara: Nancy Novotny
Tatsuko Gakumazawa: Emily Neves
Nanaki Moriyama: Juliet Simmons
Mimi Katsura: Brittney Karbowski
Leysritt "Liz": Meaghan Avocato
El-Melloi II: Leraldo Anzaldua
Sella: Tiffany Grant
Shiro Emiya: Patrick Poole
Taiga Fujimura: Allison Sumrall
Karen: Courtney Lomelo
Iris von Einzbern: Maggie Flecknoe
Bazett Fraga McRemitz: Kaytha Coker
Auguste: Christopher Ayres
Kyle Colby Jones will be directing the dub.
Fate/Kaleid Liner Prisma Illya 2Wei! aired during the summer 2014 broadcast season. The 13-episode comedy was directed Masato Jinbo (Shomin Sample) at Silver Link, with Masato Jinbo (Kokoro Connect) serving as chief director. Nozomi Ushijima provided character designs on the project, while Kenji Inoue handled series composition.
Crunchyroll currently streams the series in its entirety.
Source: Sentai Filmworks