The most important question is "When can I get this release into my veins?"
Pied Piper, Inc. announced that they acquired the domestic DVD and Blu-Ray rights to Skip Beat!. The company will host an IndieGoGo campaign through March to raise funds for the project, which will run from March 1 through March 31. Fans can sign up to receive updates on the project via a "Coming Soon" page.
Proceeds raised will be used to enhance the planned English dub. Stretch goals for bonus features, such as behind-the-scenes featurettes, as well as higher-profile staff, will be included as part of the campaign. Mela Lee (Fate/Stay: Night, Vampire Knight) will serve as executive producer on the dub, along with Cristina Vee and Jason Charles Miller.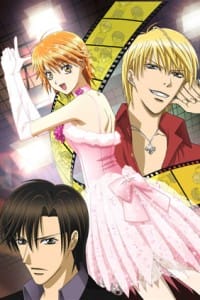 Skip Beat! is based on Yoshiki Nakamura's manga of the same name. The 25-episode series originally hit Japanese TV in the Fall 2008 broadcast season. Kiyoko Sayama (Princess Tutu, Vampire Knight) helmed the project at Hal Film Maker, with Tetsuya Kumagai (Log Horizon Season 2, Slayers Premium) providing character designs. Mayori Sekijima (Saber Marionette J, CLAMP School Detectives) was in charge of series composition, while Akifumi Tada (Tokyo Underground, Tenchi Muyo! Ryo Ohki) scored the soundtrack.
Pied Piper, Inc. was founded in 2011. The company's first release, Time of Eve: The Movie, was a Kickstarter success story, raising $215,433 across 2,711 individual backers. Ann Yamamoto, Pied Piper's president, sat with Otaku Review for an interview, which hit the web this evening. She commented on the project:
How to identify and evaluate unlicensed titles? I'd been having conversations with Time of EVE backers and talked with several of them about my predicament. Five of them joined me as Project Curators to scout out new titles, and so they sent me a stream of ideas. My next step was to contact the rightsholders. I got many, many rejections, which gave me the chance to refine my pitch. So I was in a much better position when I met with TV Tokyo. I saw "Skip Beat!" in their catalog, and my jaw dropped.

To be honest, it wasn't my ideal title simply because 25 episodes increases the costs on all fronts – licensing, dub, authoring, and manufacturing. It is a huge risk. I was looking for a smaller-scale title. But, Kyoko is all about guts. I love the title, and decided to go for it.

The TV Tokyo licensing team was open to letting me use crowdfunding, and I am profoundly grateful that the production committee allowed me to license the title.

[…]

We are bonded by our love of "Skip Beat!," and I hope that comes through in the campaign.
Crunchyroll is currently streaming Skip Beat! in its entirety on their digital platform.
Source: Otaku Review, Pied Piper Inc.