Ah, the days of youth, when the pressures of the world were upon us, and the one thing anyone wanted to do was just scream out in frustration.
Or am I thinking of the last season of Lost?
Anyway, the official Popin Q website updated with the first teaser trailer for the film. The 30-second promo showcases the film's five main characters.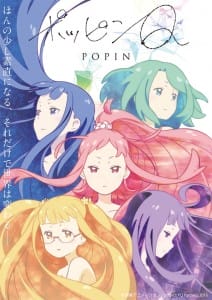 Popin Q is an original project, which is being produced to celebrate Toei's 60th anniversary. Naoki Miyahara (PreCure All Stars DX 3D Theater) is directing the project, while Takayuki Uragami fills the roles of character designer and chief animation director. Kouhaku Kuroboshi (Kino's Journey) provided the original character designs.
The confirmed voice cast includes:
Shiori Izawa
Ari Ozawa
Tomoyo Kurosawa
Asami Seto
Atsumi Tanezaki
As of press time, specific roles have yet to be announced.
Popin Q's staff will host a stage event on at on March 27, at Anime Japan. New details and information regarding the film are expected to be revealed at the show, which will host all five of the confirmed cast members.
Toei began promoting Popin Q last April, under the working title file(N): project PQ. A pair of promo videos and a visual were released to promote the project under the working title, which you can check out below:
Promo Videos
Key Visuals
Source: Ota-suke