This studio's tapping the creative veins of the masters.
Earlier today, French game developer Bloomylight Studio Kicked off a new Kickstarter campaign. The company aims to raise €53,000 ($60,774 USD) to produce Lynn and the Spirits of Inao, a two-dimensional "platform-adventure" game. As of press time, the campaign stands at €2,882  ($3,535 USD) across 163 backers, with €17.68 ($21.69 USD) being the average contribution.
If funded, Bloomylight Studio will release Lynn and the Spirits of Inao on PC and Steam, with aims to eventually release the title on consoles if stretch goals are met. Named platforms include Sony's PlayStation 4, Nintendo's Wii U, Microsoft's XBox One, and Mac computers.
Lynn and the Spirits of Inao is set on the fictional island of Inao, where apprentice priestess Lynn sets out on a pilgrimage to quell the island's tormented souls. The studio describes the plot as:
Gods and spirits have always lived in harmony with humans on the island of Inao, but one day, for reasons unknown, spirits began attacking the island's inhabitants. The High Priestess of the village, with the help of her disciple Lynn, attempted a mysterious ritual in order to send the lost souls back to the other world. However, something went wrong, leaving the Priestess gravely injured and the ceremony incomplete, revealing a far greater danger…

Now entrusted with protecting the village, the young and clumsy Lynn sought to discover the origin of this evil, and in doing so crossed paths with Aku, a demon-like spirit. Through this twist of fate they became unwilling travel companions, leaving the future of Inao and its inhabitants in the hands of an apprentice Priestess and a saucy demon.
The title will draw visual inspiration from the works of Studio Ghibli, and other "Asian Style animation movies."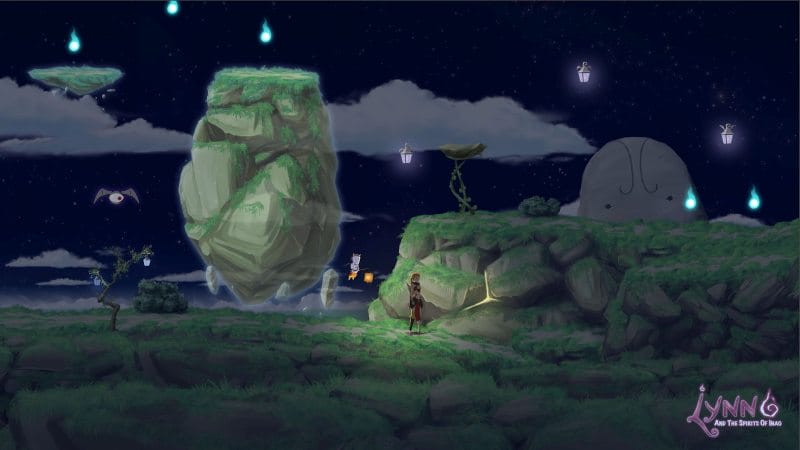 Current reward tiers include:
€9: Digital copy of the game, exclusive in-game skin for Lynn, desktop wallpapers (Limited, 800)
€13: Digital copy of the game, exclusive in-game skin for Lynn, desktop wallpapers
€18: PDF Map, exclusive in-game skin for Aku, plus all bonuses at €13 tier
€27: Access to beta versions of the game, name in credits as Beta Tester, plus all bonuses at €18 tier
€44: Digital Art Book, plus all bonuses at €27 tier
€53: Digital Soundtrack, plus all bonuses at €44 tier
€66: T-Shirt, plus all bonuses at €53 tier
€88: Printed artbook, T-shirt, plus all bonuses at €53 tier
€175: Exclusive Hand-Drawn artwork, plus all bonuses at €88 tier (Limited 20)
€351: Backer Name featured in-game, plus all bonuses at €175 tier (Limited 20)
€701: Backer likeness featured in-game as a villager, plus all bonuses at €175 tier (Limited 20)
€789: Backer likeness featured in-game as a Spirit of Inao, plus all bonuses at €175 tier (Limited 20)
€877: Design a weapon, Backer Name featured in credits as Weapons Designer, plus all bonuses at €175 tier (Limited 5)
€1,315: Design an enemy, Backer Name featured in credits as Enemy Designer, plus all bonuses at €175 tier (Limited 10)
€2,192: Design an boss, Backer Name featured in credits as Boss Designer, plus all bonuses at €175 tier (Limited 3)
Bloomylight Studio released a trailer for Lynn and the spirit of Inao, which you can check out below:
Source: Anime Herald