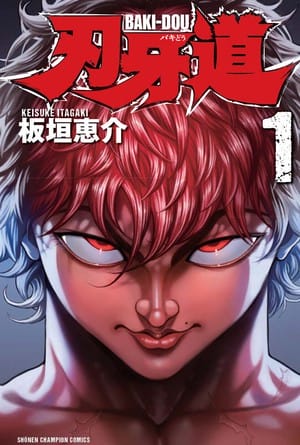 The red-headed grappler strikes again!
The latest issue of Akita Shoten's Weekly Shōnen Champion magazine (Issue 32) revealed that Keisuke Itagaki's Baki manga is getting an anime adaptation. As of press time, no details have been revealed regarding the adaptation.
This year marks the 25th anniversary of the original Baki the Grappler (Grappler Baki) manga, which debuted in the pages of Weekly Shōnen Champion in 1991. The series ran through 1999, and spanned 42 collected volumes.
Sequel series Baki launched in Weekly Shonen Champion in June 1999. The title ran in the publication through November 2005, spanning 31 compiled volumes.
Baki Hanma kicked off in the following issue of Weekly Shonen Champion, which hit newsstands on December 1, 2005. Baki Hanma ran through August 16, 2012, spanning 37 compiled books.
The most recent series, Baki-Dou is ongoing in Weekly Shonen Champion. The title began in March 2014, and currently spans eleven volumes. The 14th book will hit retailers on December 6, in both a standard and a limited edition. The limited edition will include an OVA.
Baki the Grappler has received two TV 24-episode anime adaptations in 2001, as well as a 1994 OVA. Central Park Media released the OVA in the west on VHS and DVD, while Funimation distributed the TV adaptations.
Source: Anime News Network