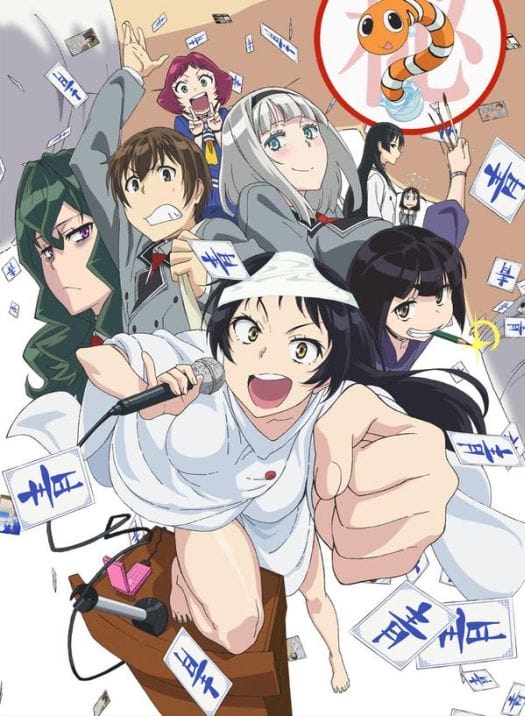 If the concept of dirty jokes didn't exist, then what would that mean for our stand-up scene?
Earlier today, Funimation unveiled the English dub cast for Shimoneta: A Boring World Where the Concept of Dirty Jokes Doesn't Exist. The series will star the following:
Ayame: Jamie Marchi
Tanukichi: Josh Grelle
Goriki: David Wald
Anna: Monica Rial
Otome: Brittney Karbowski
Kosuri: Lara Woodhull
Hyoka: Mikaels Krantz
White Peak: Anthony Bowling
Narrator/Base Black: Christopher Sabat
Shimoneta will hit stores on Blu-ray and DVD on November 29.
Shimoneta is based on Hirotaka Akagi's light novel series of the same name. The show was helmed by Youhei Suzuki (The Hentai Prince and the Stony Cat) at J.C. Staff, with Masahiro Fujii (The Familiar of Zero, Hayate the Combat Butler!!) providing character designs. Masahiro Yokotani (The Devil Is A Part-Timer!, Free! – Iwatobi Swim Club) was in charge of series composition.
Funimation streamed Shimoneta as the series aired in Japan. They describe the show as:
Who is the panty-masked villainess spreading obscenity in a country where even the mildest off-color musing can land you in jail?
When the student council president of the most elite public morals school in the country has a feeling that the lewd is coming from within the walls, she recruits Tanukichi, a recent transfer student, to her upstanding moral squad.

Little does she know he's already been blackmailed by Ayame, her own vice president who is secretly the panty-masked bandit, into committing mass acts of public obscenity in the name of SOX—a brigade of sorts—dedicated to spreading the good news of being lewd.