Get ready for a job with online proportions!
Earlier today, the official WWW.Working!! anime website updated with two new promo videos. The 30-second teasers introduce leading characters Hana Miyakoshi and Sayuri Muranushi.
Hana Miyakoshi
http://www.dailymotion.com/video/x4qfyet_www-working-character-trailer-hana-miyakoshi_tv
Sayuri Muranushi
http://www.dailymotion.com/video/x4qfyfc_www-working-character-trailer-sayuri-muranushi_tv
In addition, the site added a new key visual, which features the main cast members in-uniform at the Wagnaria diner. You can check it out below:
Five new cast members were also unveiled today, including:
Miri Yanagiba: Momo Asakura
Rui Nagata: Ari Ozawa
Takuya Kono: Hiro Shimono
Kouki Saiki: Yoshimasa Hosoya
Kenichiro Sakaki: Kosuke Toriumi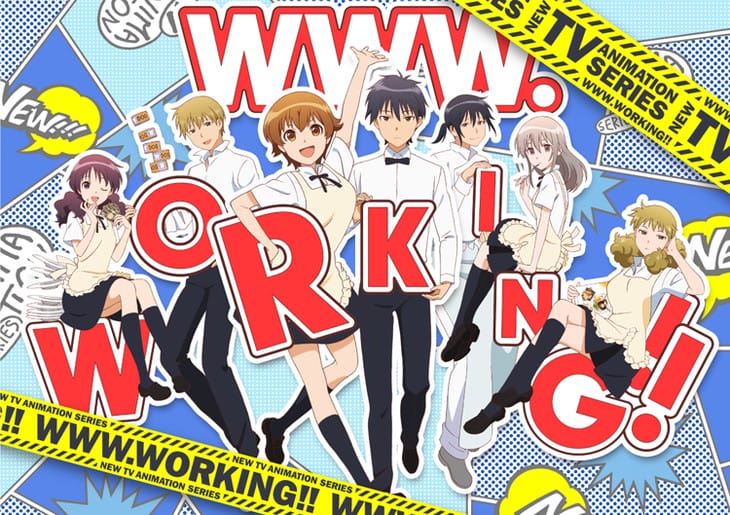 WWW.Working!! is based on the web manga of the same name. Yumi Kamakura, who helmed the last season of Wagnaria!!, will return to direct the project at A-1 Pictures. Seven cast members were confirmed at the show's announcement, including:
Daisuke Higashida: Yuichi Nakamura
Hana Miyakoshi: Haruka Tomatsu
Shiho Kamakura: Sora Amemiya
Yuta Shindo: Kensho Ono
Sayuri Fumie: Yoko Hikasa
Masahiro Adachi: Kouki Uchiyama
Kisaki Kondo: Risa Taneda
The several players previously voiced their characters on a drama CD that shipped with the third collected volume of the series.
WWW.Working!! is spinoff of the original Wagnaria!! manga, set in a sister location to the Wagnaria family restaurant. The series revolves around Daisuke Higashida, who takes a job at the location due to financial hardship. He quickly finds out, though, that nobody in the restaurant is exactly "normal."
The show will kick off on Tokyo MX on October 1. Several character visuals and a two-minute promo teaser were released to promote the series, which you can check out below:
Promo Video:
http://www.dailymotion.com/video/x41ck0k_www-working-tv-anime-announcement-pv_tv
Character Visuals
Source: MoCa News