While I try to maintain a professional air about things, I just have to say this: "Holy %&()!#@ crap! is this real life?"
Earlier today, Crunchyroll announced that they formed a content distribution partnership with Funimation. The two companies will immediately (as in today) begin sharing their home video, streaming, and simulcast catalogs, including both subtitled and dubbed productions.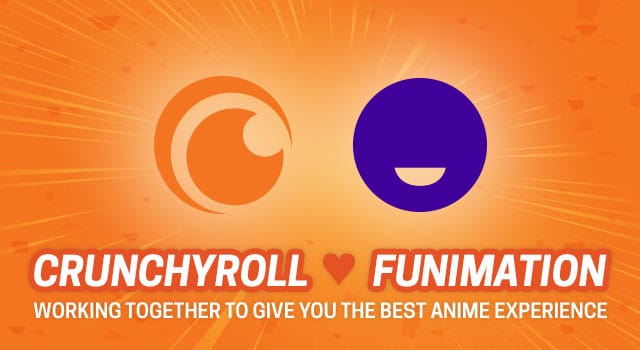 According to the press release, "Crunchyroll will continue creating the best subtitled streaming experience for fans, while Funimation will focus on delivering the best in English-language dubbed ("Broadcast Dubs") streaming."
We're going to break this down between the two companies and major topics to make the information a bit easier to digest.
Crunchyroll
According to Crunchyroll and Funimation, the partnership will see Crunchyroll specializing primarily in subtitled content.
Simulcasts
Starting today, Crunchyroll subscribers will gain access to subtitled versions of Funimation's summer simulcasts. Titles named include:
D.Gray-man Hallow (United States, Canada, UK, Ireland, South Africa, Iceland, Sweden, Norway, Denmark, Netherlands)
First Love Monster (United States, Canada, UK, Ireland, South Africa, Iceland, Sweden, Norway, Denmark, Netherlands)
Puzzle & Dragons X (United States, Canada, UK, Ireland)
Catalog Titles
A selection of Funimation's "catalog" shows will be available today via Crunchyroll. Named titles include (with available regions in parentheses):
Cowboy Bebop (United States, Canada)
Grimgar of Fantasy and Ash (United States, Canada, UK, Ireland, South Africa, Iceland, Sweden, Norway, Denmark)
Psycho-Pass (United States, Canada, UK, Ireland, South Africa)
Home Video
Funimation will distribute Crunchyroll's titles on home video, as well as digital distribution outlets. Both dubbed and subtitled versions will be bundled together on home video. Current planned titles include:
Ace Attorney
Alderamin on the Sky
Bungo Stray Dogs
JOKER GAME
Kabaneri of the Iron Fortress
ReLIFE
More titles will be announced in the future. Named distribution outlets include iTunes, Google Play, PlayStation Store, and the Xbox Live Marketplace.
Funimation
According to the two publishers, FunimationNow focuses on dubs. In addition, Funimation simplified their FunimationNow subscription model, offering one single plan, named FunimationNow Premium. This will be priced at $5.99 per month (or $59.99 annually)
Simulcasts
Funimation will begin offering Broadcast Dubs of Crunchyroll's titles via FunimationNow. Currently named titles include:
91 Days
Mob Psycho 100
Orange
Release schedules on these titles have yet to be announced.
Catalog
Funimation will offer Free! -Iwatobi Swim Club- and Testament of Sister New Devil on FunimationNow in the future, though a specific date has yet to be named.
Both Companies
Both companies are working to make as many shows available between the two libraries as possible. Additional titles will be unveiled in the future.
Funimation released a video to explain the partnership:
Both Crunchroll founder Kun Gao and Funimation CEO Gen Fukunaga commented on the news:
Kun Gao
Funimation shares our passion of bringing amazing content to viewers. This partnership will allow Crunchyroll to continue making the best subtitled simulcast experience for all fans. Anime is a lifestyle experience shared by millions, and we look forward to new ways to delight fans together.
Gen Fukunaga
Crunchyroll is a leading destination for fans to watch anime content […] Our commitment is first and foremost to our fans — and by partnering with Crunchyroll, together we can expand the reach of anime by making shows available to an even larger audience around the world. Funimation will continue to be the best place for fans to experience dubbed content while we also work with Crunchyroll to grow the market for anime. This is a thrilling next step for both companies.
Sources: Crunchyroll, Funimation