All the robots say "Ai yi yi yi yi yi yi!"
Last night, entertainment news source The Hollywood Reporter revealed that comedian Bill Hader will join the cast of the 2017 Power Rangers movie. Hader will play Alpha 5, the quirky robot who mans the Command Center as Zordon's assistant.
Hader has been active in the industry since 2004. He began as a production assistant, working on features like Empire of Dreams: The Story of the Star Wars Trilogy, Spider-Man, and Collateral Damage.
Hader joined the Saturday Night Live players on October 1, 2005, and quickly became known as the "impressions guy." Notable roles on the series include Vincent Price, Harvey Fierstein, Seth Rogen, James Carville, Eliot Spitzer, Alan Alda, Clint Eastwood, and Charlie Sheen. Hader's work on Saturday Night Live would lead to the actor winning a nomination for a Primetime Emmy Award for Outstanding Supporting Actor in a Comedy Series in 2012. He was the first male actors to be nominated for this award since Eddie Murphy in 1984.
Outside of Saturday Night Live, Hader played minor parts in numerous shows, including 30 Rock, The Venture Bros., Silicon Valley, and South Park. His notable film roles include BB-8 in Star Wars: The Force Awakens, Andy Warhol in Men in Black 3, and the USS Vengeance computer in Star Trek Into Darkness.
Lionsgate describe the new Power Rangers film as:
Saban's Power Rangers follows five ordinary high school kids who must become something extraordinary when they learn that their small town of Angel Grove – and the world – is on the verge of being obliterated by an alien threat. Chosen by destiny, our heroes quickly discover that they are the only ones who can save the planet. But to do so they will have to overcome their real-life issues and band together as the Power Rangers before it is too late.
The confirmed cast includes:
Jason Lee Scott (Red Ranger): Dacre Montgomery
Billy Cranston (Blue Ranger): RJ Cyler
Trini Kwan (Yellow Ranger): Rebbeca Marie "Becky G" Gomez
Zack Taylor (Black Ranger): Ludi Lin
Kimberly Hart (Pink Ranger): Naomi Scott
Rita Repulsa: Elizabeth Banks
Zordon: Bryan Cranston
Sam Scott (Jason's father): David Denman
Amanda: Sarah Grey
Maddy Hart (Kimberly's mother): Anjali Jay
Mr. Kwan (Trini's father): Patrick Sabongui
Candace Cranston (Billy's mother): Lisa Berry
Rebecca: Emily Maddison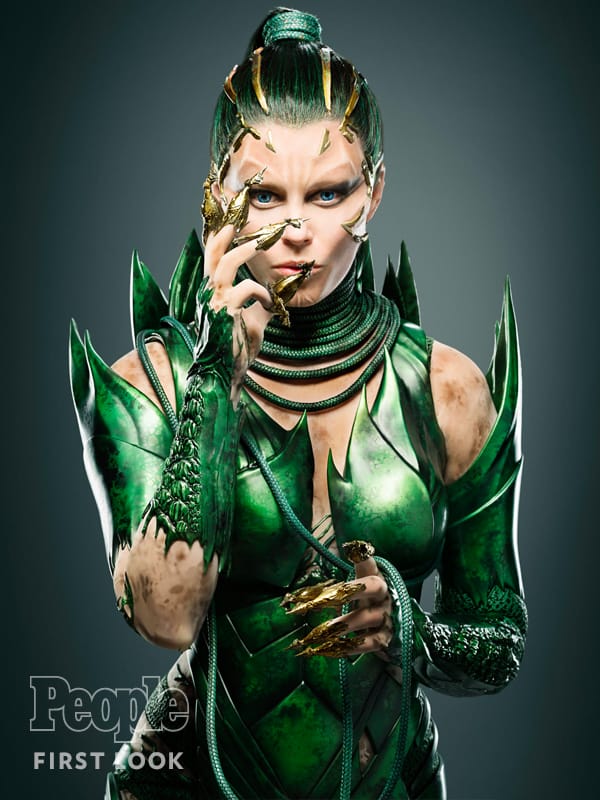 Dean Israelite (Project Almanac) is in the director's chair for the project, which features a script by John Gatins (Kong: Skull Island, Real Steel), Burk Sharpless, Matt Sazama (Dracula Untold), Max Landis (Chronicle), Zack Stentz, and Ashley Miller (X-Men: First Class, Thor).
Haim Saban, Brian Casentini, Wyck Godfrey, and Marty Bowen are serving as producers on the film. Allison Shearmur and Brent O'Connor will executive produce.
Other staff members include:
Music: Brian Tyler (Avengers: Age of Ultron)
Costume Design: Kelli Jones (Straight Outta Compton)
Set Design: Hamish Purdy (The Revenant)
Suit Design & Visual Effects: Weta Workshop (The Lord of the Rings)
Stunt Coordinator: Paul Jennings
Production Designer: Andrew Menzies
Director of Photography: Matt Lloyd
In June, Entertainment Tonight published a video interview with actor Bryan Cranston. In the piece, Cranston discusses his role as Zordon in the film, and confirms that he is doing motion capture work for the project.
According to Cranston, Zordon will be brought to life by "a lot of CGI." In the film, Zordon will be "a real person who was trapped in this eitherworld, and becomes in the walls, so to speak of [The Command Center]. And he still has a heart and mind, and an agenda that he's got to get these five Power Rangers to defend the Earth or else everyone they know will be killed."
Source: The Hollywood Reporter