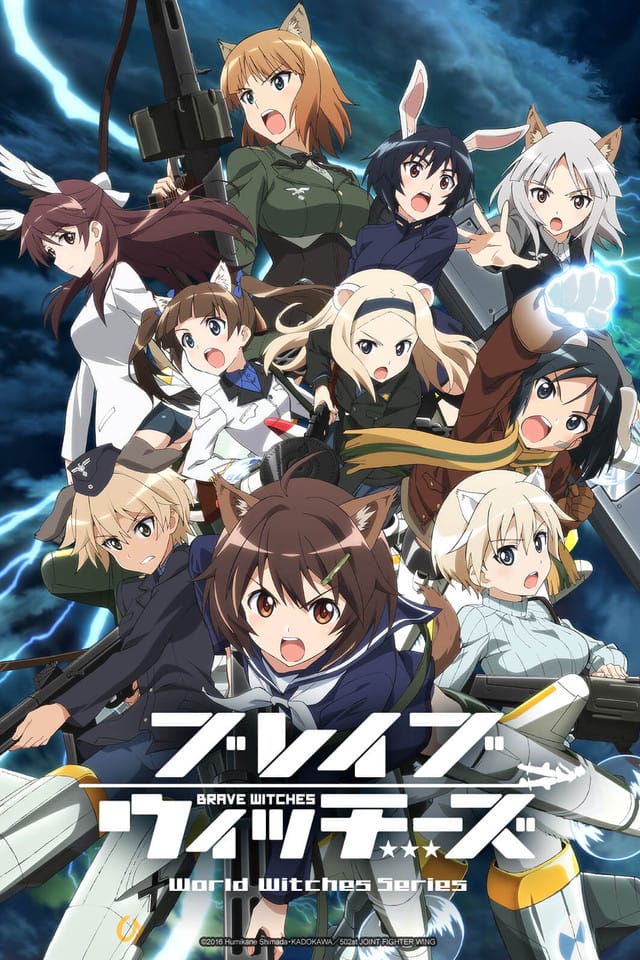 The 502nd Joint Fighter Wing is ready to deploy on both sides of the Pacific!
Earlier today, Crunchyroll announced their full simulcast plans for Brave Witches. The series will stream on Crunchyroll starting on October 5, at 11:05AM Pacific (2:05PM Eastern).
Brave Witches will be available in all regions outside of Asia.
Brave Witches is a spinoff of Strike Witches, which focuses on the 502nd "Brave Witches" Joint Fighter Wing squadron. Strike Witches director Kazuhiro Takamura will return to direct the series at Silver Link, while also filling the role of character designer. Striker Unit is credited with series composition, while Humikane Shimada is listed as original character designer.
Takaaki Suzuki will return to the project as a military history advisor, while also crafting the overall world setting. Strike Witches mechanical designer Hiroyuki Terao will also return to the project, while Tomohiro reprises his role as sound director. Tsuyoshi Kikuchi (Pandora in the Crimson Shell: Ghost Urn, Haruchika – Haruta & Chika) and Daijō Kudō (Pandora in the Crimson Shell: Ghost Urn, Haruchika – Haruta & Chika) are planning the series.
The confirmed voice cast includes:
Hikari Karibuchi: Ai Kakuma
Georgette Lemare: Haruka Terui
Edytha Rossmann: Hiromi Igarashi
Waltrud Krupinski: Kayo Ishida
Sadako Shimohara: Marin Mizutani
Nikka Edvardine Katajainen: Natsumi Takamori
Naoe Kanno: Rie Murakawa
Takami Karibuchi: Rie Suegara
Gundula Rall: Rina Satou
Aleksandra I. Pokryshkin: Yumi Hara
Crunchyroll describes Brave Witches as:
In 1930, the enemy of humanity, "Neuroi," suddenly appeared in Europe. Normal weaponry was ineffective on the Neuroi, and the only ones capable of fighting them were young girls with magical powers, known as "Witches."

"Brave Witches" takes place in between seasons 1 and 2 of "Strike Witches."

In September of 1944, thanks to the actions of the Allied Forces, with the 501st Joint Fighter Wing "Strike Witches" at their center, the Neuroi nest in the skies above the Republic of Gallia was eliminated, ensuring the security of western Europe. The Allied Forces took advantage of this victory to plan to take their resistance to central and eastern Europe in earnest. At their base in Petersburg in the Empire of Orussia, the 502nd Joint Fighter Wing "Brave Witches" prepared to receive orders to deploy… With the hope of mankind at their backs, the courageous Witches of the 502nd take to the cold skies over eastern Europe.
Several visuals, as well as a pair of promotional videos were released to promote Brave Witches. You can check these out below:
Promo Videos
Character Visuals
Source: Crunchyroll