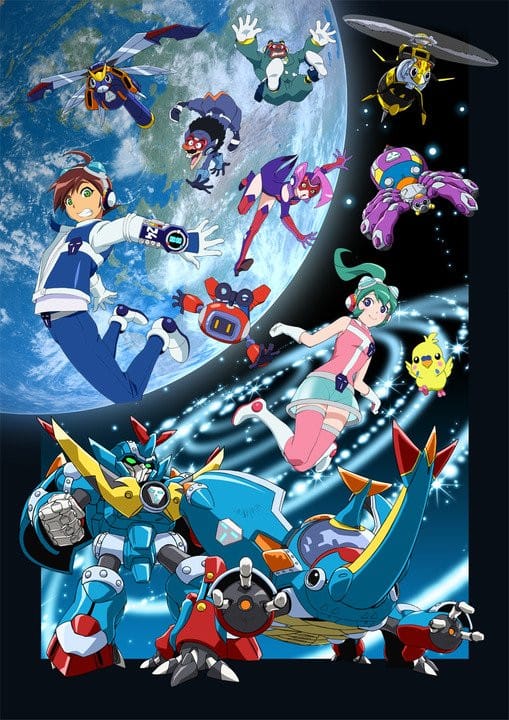 It's time to take a trip through time and space to fight for truth, justice, and maybe even a few laughs!
Earlier today, Crunchyroll announced that they will stream Time Bokan 24 as part of their Fall 2016 simulcast lineup. The series will hit Crunchyroll's digital platform on October 1 at 4:00AM Pacific (7:00AM Eastern).
Time Bokan will be available to subscribers in the following regions:
United States
Canada
South Africa
United Kingdom
Ireland
Australia
New Zealand
Denmark
Norway
Sweden
Finland
Iceland
Netherlands
Central America
South America
The Caribbean
Time Bokan 24 is a modern reboot of classic comedy series Time Bokan. Takayuki Inagaki (Desert Punk, Rosario + Vampire) is helming the project at Level-5 and Tatsunoko Productions, with Kunio Okawara (Armored Trooper Votoms, Gundam Build Fighters) providing mechanical designs. Yoichi Kato (Aikatsu!, Yo-Kai Watch) is in charge of series composition.
Crunchyroll describes the show as:
The history in our textbooks are all wrong?! In the 24th century, humankind accomplished the invention of a time machine, "Time Bokan". As they discover the truth about history, they realize that the history written in their textbooks are all wrong! To correct their knowledge of history, the government developed an organization called JKK (Space-time Administrative Bureau). Our hero Tokio is recruited by Karen, a girl from the future to join the JKK. Together they travel through time to discover the true history, along with fighting the "Akudarma" a villainous group whose goal is to prevent the discovery of the truth!
The confirmed voice cast includes:
Calen: Akari Kito
Tokio: Akihisa Wakayama
Bimajo: Eri Kitamura
Tsubuyakky: Hiroaki Hirata
Suzukky: Kenta Miyake
Several character visuals and a promotional video were released to promote Time Bokan 24. You can check these out below:
Promo Video
Character Visuals
Source: Crunchyroll