So, how do you say "Mokkori" in Mandarin?
A live-action film adaptation of Tsukasa Hojo's City Manga was greenlit for production in China. The feature is currently slated for a December 2018 (or later) première.
The City Hunter film is a collaborative effort between rights management company North Stars Pictures, Yomiuri TV, Shanghai Sea & Sun Global Creative, and planning/production company Shanghai Kegon Cultural Arts The movie will star Huang Xiaoming (American Dream in China) as the titular City Hunter, whose nanme is still unknown as of press time. Cheng Jiake (Detective Chinatown) will write the script, while Stanley Tong serves as executive producer.
City Hunter kicked off in the pages of Shueisha's Weekly Shonen Jump magazine in 1985. The series ran through 1991, and spans 35 collected volumes. In North America, now-defunct Gutsoon! Entertainment started publishing the title in their Raijin Comics magazine.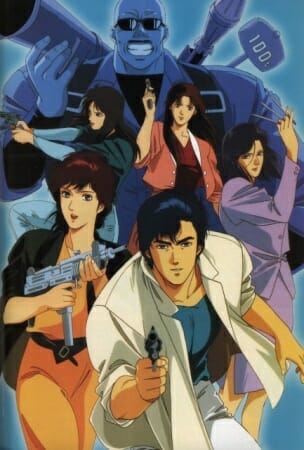 The City Hunter manga spawned four anime TV series, as well as theatrical film .357 Magnum, two OVAs, and three TV specials. All of the animated works were produced by Sunrise.
The full list of anime titles is as follows:
City Hunter (1987, 51 Episodes)
City Hunter 2 (1988, 63 Episodes)
.357 Magnum (1989, Theatrical Film)
City Hunter 3 (1989, 13 Episodes)
Bay City Wars (1990, OVA)
Million Dollar Conspiracy (1990, OVA)
City Hunter '91 (1991, 13 Episodes)
City Hunter: The Secret Service (1996, TV Special)
City Hunter: The Motion Picture (1997, TV Special)
Death of the Vicious Criminal Ryo Saeba (1999, TV Special)
ADV Films released nearly all of the City Hunter anime in North America. The series finale, Death of the Vicious Criminal Ryo Saeba, remains unlicensed and unreleased in the region.
ADV described City Hunter as:
Meet Ryo Seaba: ladies' man, troubleshooter and expert marksman. When you need more help than the police can provide, he's the solution. He's the City Hunter, and if he can't solve your problem, no one can. Welcome to the world of City Hunter where freelance troubleshooter Ryo Saeba works to keep the streets of Shinjuku safe. When calling the police just won't do, leave an "XYZ" message on the board at Shinjuku Station and the City Hunter will respond to your plea for help, especially if you happen to be a beautiful woman!
In 1993, a live-action film adaptation of the manga was produced in Hong Kong. Jackie Chan played Ryo Saeba in the film, while Joey Wong played Kaori Makimura. Wong Jing directed the feature.
In 2011, a Korean Drama based on City Hunter aired on the Seoul Broadcasting System. The series, which cast Lee Min-ho as "City Hunter" Lee Yoon-sung, took a more hard-boiled approach to the franchise.
Tsukasa Hojo produced spinoff manga Angel Heart in 2001. The title ran in Shinchosha's Weekly Comic Bunch through 2010, and spanned 33 cololected volumes. A 50-episode anime adaptation was produced, which hit Japanese TV in 2005.
Source: Comic Natalie