In recent years, companies like Netflix, Crunchyroll, and Spotify have taken great strides to make streaming TV, anime, and music part of our mainstream culture. Now, it's time for light novels to step into the spotlight!
Earlier today, digital publisher J-Novel Club opened their doors. The publisher specializes in English translations of Japanese light novels, which they will deliver in a "streaming" format. The company will release new chapters of their titles on a weekly basis, which will be available to paying subscribers. Fans will be able to read the books via the J-Novel Club website, as well as dedicated apps on iOS and Android.
When the translation is complete, J-Novel Club will release the titles for sale on all major eBook retailers, including Amazon's Kindle store, the Kobo Store, and Apple's iBooks service.
J-Novel Club is partnering with publishers Hobby Japan and Overlap for their launch lineup, which includes four titles:
Occultic;Nine by Chiyomaru Shikura, Illustrations by pako (Global English-Language Digital License)
Brave Chronicle: The Ruinmaker by Kenya Atsui, Illustrations by Saori Toyota (Global English-Language Digital License)
My Big Sister Lives in a Fantasy World by Tsuyoshi Fujitaka, Illustrations by An2A (Global English-Language Digital License)
My Little Sister Can Read Kanji by Takashi Kanjii, Illustrations by Halki Minamura (Global English-Language Digital License)
J-Novel Club aims to announce at least six new titles by the end of 2016.
Subscriptions are offered in two flavors: Membership and Premium Membership.
Membership allows access to all "pre-publication" materials via the J-Novel Club service. In addition, subscribers will have access to a special "Members Only" forum on the company's website. This tier is priced at $4.95 per month, or $54 per year ($4.50 per month)
Premium Membership also allows access to all "pre-publication" materials on the J-Novel Club service, as well as the Members-Only forum. The tier also includes a monthly credit for one published eBook purchase, as well as access to a "Premium Members Only" forum that will be frequented by translators and writers.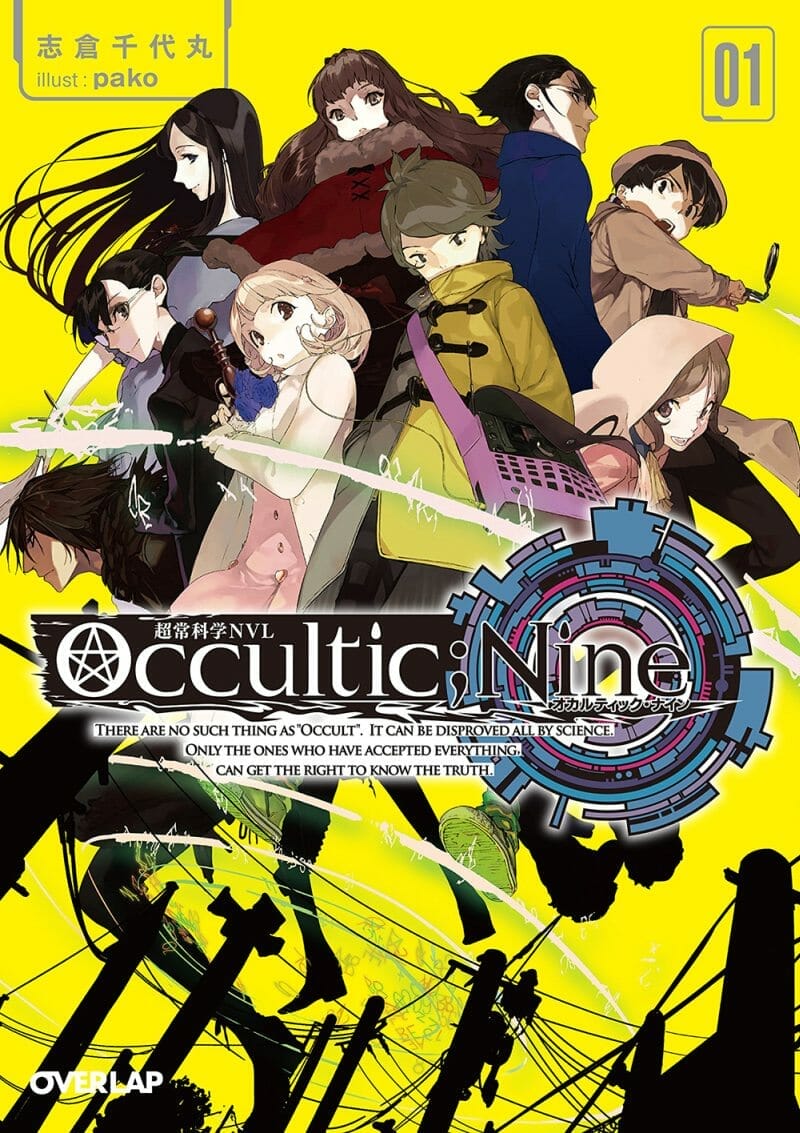 Occultic;Nine is an ongoing series, which first hit stores in August 2014 under Overlap's "Overlap Bunko" imprint. An ongoing manga adaptation, which features illustrations by Ganjii, is also running in Kodansha's good! Afternoon magazine.
J-Novel Club Describes the series as:
Q: Do you believe in ghosts?
A: Of course not!
Yuta Gamon, a young boy who lives in Kichijoji, runs an occult blog called "Kirikiri Basara." He spends his days dreaming of making a fortune off his affiliate links. What starts off as a tiny feeling that something's wrong develops into a case that goes beyond imagination. Suddenly, Yuta brings together the fates of nine strangers.
Black magic, the afterlife, psychics, fortune-telling, other dimensions, prophecies, hypnosis, urban legends… The world is filled with flim-flam!
This is the first book in the Paranormal NVL Occultic;Nine series, from the mind behind Steins;Gate and Chaos;Child! An anime adaptation is airing and streaming worldwide Fall 2016.
My Big Sister Lives in a Fantasy World (Oneechan ha Chunibyo) began publication in 2013 under Hobby Japan's Paperback Bunko Imprint. J-Novel Club describes the title as:
One day, first year high school student Yuichi Sakaki suddenly awakens the power of "Soul Reader" within him, and he can see words above people's heads that describe their true nature! With just a glance at the people around him, he sees crazy things like "Zombie", "Witch", and "Vampire"… That would be bad enough, but then there is "Serial Killer" Natsuki Takeuchi walking straight toward him… Nobody would ever believe him! Well, except for his older sister Mutsuko: This kind of stuff is right up her alley.

Our final launch title marked simultaneously the high point and low point of the "little sister boom" in the early 2010s… Brutal satire of the genre? Or heartfelt cry for acceptance? Maybe both?
Brave Chronicle: The Ruinmaker (Kimi kara Uketsugu Brave Chronicle) began publication in November 2015, under Overlap's Overlap Bunko
Imprint. J-Novel Club describes the title as:
Meet Kurono Kokuya, a student in the lowest rank at Star Gate Academy – the world's cutting-edge training facility for star sorcerers, the beings who use star sorcery to protect the Earth from otherworld invasions. His childhood friend Yukihime Yukigane just happens to be the world's strongest star sorcerer, and she never lets him forget that fact. One day, their days of peace are interrupted by a powerful threat from another world. Kokuya and Yukihime stand on the front lines, risking their lives to protect those they love, but will they be able to defeat the Dark Lord Redge and his cruel minions?
My Little Sister Can Read Kanji (Boku no Imouto wa Kanji ga Yomeru) began publication in September 2013 under Hobby Japan's HJ Bunko imprint. J-Novel Club describes the series as:
The year is 2202, and Japan has become the land of moe. Aspiring author Gin Imose and his little sister Kuroha are traveling to TOKYO to meet with the world famous author, Gai Odaira. Kuroha is uninterested in his orthodox literary style, and amazingly is able to read ancient modern Japanese books written in kanji! This fateful encounter sets off a chain of events that could change the course of literary history! Could it be that, long ago, books could be about more than little sisters showing their panties and getting in compromising situations with their non-blood-related older brothers? Impossible! It's hard to even imagine a Japan where everyone could read kanji and the Prime Minister was a 3D human being…
Source: J-Novel Club (Press Release)
Update 10/15/2016, 12:40PM: We misread the original press release when we listed that J-Novel Club's next release "won the Silver Prize in the 2nd Overlap Light Novel Competition, from a talented up-and-coming author." The quote was made in regards to Brave Chronicle: The Ruinmaker. The publisher has not announced any specifics on their upcoming titles.
We apologize for the error.