When the bombs have fallen and countless lay, long departed from this mortal coil, one can almost hear a name whispered in the stillness: "Degurechov."
Earlier today, the official Youjo Senki (The Military Chronicles of a Little Girl) anime website updated with a new TV spot. The 30-second teaser features opening theme Jingo Jungle as a background track.
Myth & Roid (pronounced "Miss Android") will release Jingo Jungle as a CD single on February 8. The Youjo Senki anime will hit Japanese TV on January 6. The show is slated to air on Tokyo MX and AT-X, among other networks.
Yutaka Uemura (Punch Line, The Mystic Archives of Dantalian) will direct the project at Studio NuT, with Yuji Hosogoe providing character designs. Kenta Ihara is in charge of series composition. Other confirmed crew members include:
The opening theme, Jingo Jungle will be performed by Myth & Roid. Aoi Yuki will perform the show's closing, Los! Los! Los!. Los! Los! Los! will get hit stores as a single on February 22.
Other confirmed crew members include:
Music: Shuji Katayama
Art Director: Satoru Hirayanagi
Chief Animation Director: Yuji Hosogoe
3D Director: Masato Takahashi
Sound Director: Yoshikazu Iwanami
Director of Photography: Shinji Tonsho
Assistant Director: Kana Harufuji
Color design: Chiho Nakamura
Editing: Yumi Jinguji
Effect Animation Director: Takashi Hashimoto
Firearm Design: Nao Otsu
Key Animation: Hiroyuki Horiuchi
Key Animation: Shinichi Kurita
Key Animation: Shosuke Ishibashi
Military Research: Reiichiro Ofuji
Prop Design: Hiromi Taniguchi (clothes)
Prop Design: Ryouma Ebata (mage items)
Prop Design: You Moriyama
Sub-Character Design: Haruhito Takada
Sub-Character Design: Hiromi Taniguchi
Sub-Character Design: Takao Maki
The confirmed voice cast on the project includes:
Tanya Degurechov: Aoi Yuki
Seetour: Houchu Ohtsuka
Visha: Saori Hayami
Relgen: Shinichiro Miki
Ludeldorf: Tessho Genda
The Youjo Senki light novel made its début on October 31, 2013 under Kadokawa's Enterbrain label. Volume 4 of the series hit stores on June 29, 2015.
The series received a drama CD, which cast Hiromi Igarashi (Durarara!! ×2 The Second Arc, Amagi Brilliant Park) as main character Tanya Degurechaff.
Database site Baka Updates describes the series as follows:
On the front line of the war, there's a little girl. Blond hair, blue eyes and porcelain white skin, she commands the army with lisping voice. Her name is Tanya Degurechaff. But in reality, she is one of Japan's most elite salarymen, reborn as a little girl after angering a mysterious being X who calls himself "God." And this little girl, who prioritize over anything else efficiency and her own career, will become the most dangerous being amongst the sorcerers of the imperial army…
A promotional video, as well a several character visuals were unveiled to promote the Youjo Senki anime. You can check these out below.
Promo Videos
Teaser Visual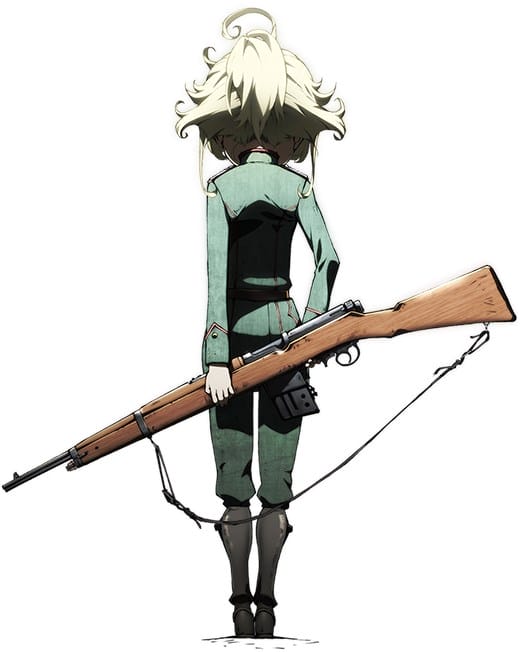 Character Visuals
Source: Twitter (youjosenki)