So, what is in the super sand box, really?
Yesterday, Chinese company Tencent and Japanese game publisher Success announced that they are banding together to produce a new animated series. The show, which will adapt Tencent comic series Chōyū Sekai (World of Super Sand Box), will premiere in Japan and China on January 12.
As of press time, the show's staff is still unconfirmed. Success started streaming a two-minute promotional teaser for the show, though, which features the show's Japanese theme song by Riho Iida as a background track:
The official World of Super Sand Box Twitter account confirmed the show's Japanese cast. The series will star the following:
Noii: Shun Horie
Motis: Yoshiko Ikuta
Cass: Yurika Kubo
Haki: Kazutomi Yamamoto
Vinsen: Yuki Adachi
Keikan: Kazuma Horie
Ryū-sensei: Emiri Katō
Chinnō: Sarara Yashima
Hakū: Rika Tachibana
Mōnsuto: Riho Iida
Viros: Takehito Koyasu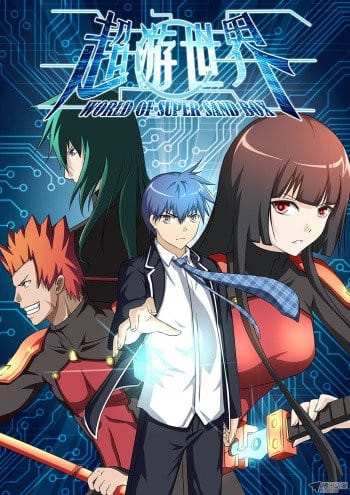 Success's promotional video describes World of Super Sand Box as "a miraculous tale of reality, fiction, and peoples' thoughts uniting."
This is the third Japanese co-production for Tencent, who also collaborated on two previous projects. The company collaborated with Haoliners to produce Fall 2016 series Bloodivores and Summer 2016 show Hitori no Shita: The Outcast.
Success Corporation is a Shinagawa-based game developer and publisher, who have been in operation since 1978. In addition to popular puzzle game Zoo Keeper, Success has produced numerous niche favorite games, including Izuna: Legend of the Unemployed Ninja, Metal Saga, and Touch Detective. The company is also involved in mobile and web games, as well as pachislot machines.
Tencent Holdings Limited is a Shenzhen-based holding company, whose subsidiaries handle advertising, media, entertainment, internet and mobile phone value-added services. The company is one of the largest in the world, and with numerous influential properties including the social media sites Tencent Weibo and QZone and payment gateway TenPay. The company also holds controlling controlling stakes in game developers Riot Games (League of Legends) and Supercell (Clash of Clans, Clash Royale), as well as a minority stake in Epic (Unreal Engine, Gears of War). Tencent posted 102.863 billion yuan in revenues in 2015 ($14,832,230,249.02 USD)
Source: MyAnimeList, Twitter (cys_japan)