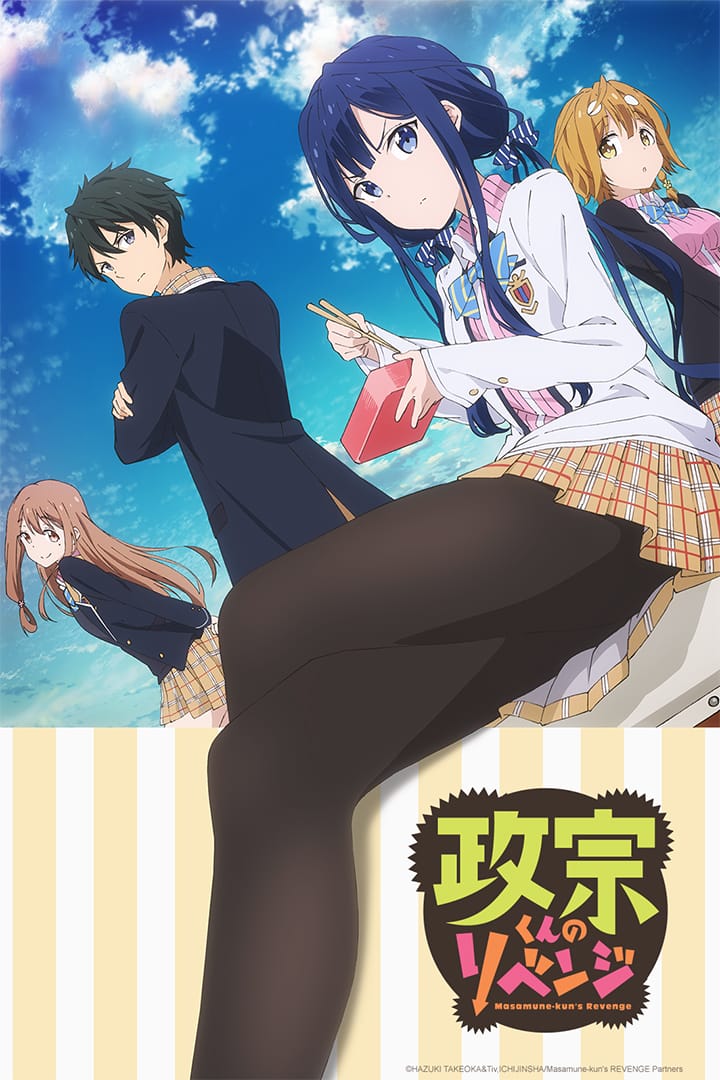 Revenge is a dish best served cold… or with humorous results. Dealer's choice.
Earlier today, Funimation announced the English dub cast for Masamune-kun's Revenge. The series will star the following:
Masamune Makabe: Josh Grelle
Aki Adagaki: Morgan Garrett
Yoshino Koiwai: Monica Rial
Kojuurou Shuri: Justin Briner
Chinatsu Hayase: Skyler Davenport
Kinue Hayase: Natalie Hoover
Tae Futaba: Caitlin Glass
Mari Mizuno (Episode 1): Jeannie Tirado
Kaneko Sonoka (Episode 1): Tia Ballard
Kikune Kiba (Episode 1): Dawn M. Bennett
Akio Tanabe (Episode 1): Daman Mills
Shigeo Yamada (Episode 1): Aaron Dismuke
Alexis Tipton is directing the adaptation, which features scripts by Emily Neves. Colby Cockburn is working as ADR Engineer, while Andrew Tipps serves as Mixing Engineer.
Masamune-kun's Revenge hits FunimationNow tonight, at 9:30PM Eastern (6:30PM Pacific). The series first hit Japanese TV on January 5.
Masamune-kun's revenge is based on Hazuki Takeoka and illustrator Tiv's manga of the same name. Mirai Minato (Fate/kaleid liner Prisma Illya) is directing the series at Silver Link, with Yuki Sawairi providing character designs. Michiko Yokote (Cute High Earth Defense Club LOVE!, Genshiken) is in charge of series composition.
Crunchyroll is currently streaming Masamune-kun's Revenge as a subtitled simulcast. Sentai Filmworks currently holds the rights to the original manga.
Funimation describes the series as:
As a child, Masamune Makabe was mercilessly teased about his weight and cruelly nicknamed "Pig's Foot" by a young girl named Aki Adagaki. Years later, Masamune continues to hold resentment and decides to seek revenge against his tormenter. Now, handsome and in top shape, he returns to exact vengeance on Aki! But as he gets closer to her, he finds his heart desires something other than revenge.
Source: Funimation Blog