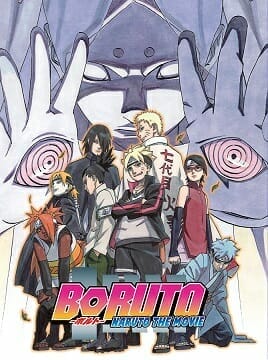 The next generation of the Naruto world is taking his act on the road! This time, he's headed to the D.C. Metro area with few friends!
On Tuesday, Viz Media announced that they will attend Katsucon 2017 as guests. At the convention, Viz will host the English dub première for Boruto: Naruto the Movie. The screening will be held on February 18 at 6:00PM, in Live Room 1.
Several of Boruto's English dub actors, including Amanda Miller (Boruto), Cherami Leigh (Sarada), and Robbie Daymond (Mitsuki) are slated to appear.
Katsucon 2017 will be held from February 17 through February 19 at the Gaylord National Resort & Convention Center in National Harbor, MD.
Boruto: Naruto the Movie is a sequel to the original Naruto anime series. The feature was directed by Hiroyuki Yamashita at Studio Pierrot, with Naruto creator Masashi Kishimoto writing the screenplay. The team of Hirofumi Suzuki ((Le) Portrait de Petite Cossette, Road to Ninja: Naruto the Movie), Masashi Kishimoto, and Tetsuya Nishio (Ghost in the Shell: Stand Alone Complex – Individual Eleven, Naruto) provided character designs.
Boruto: Naruto the Movie hit Japanese theaters in August 2015, and went on to become the highest-grossing Naruto film of all time in the region. Viz Media gave the movie a theatrical run in the United States and Canada in 2015. They describe Boruto: Naruto the Movie as:
In Boruto: Naruto the Movie, famed ninja, Naruto Uzumaki protects the Hidden Leaf Village as the Seventh Hokage, while Boruto, his troublesome son, resents his father's responsibilities that take his time away from him. Seeing this, Sasuke takes Boruto under his wing, while Sasuke's only daughter, Sarada, dreams of being Hokage one day.

With Naruto as the Seventh Hokage, the Hidden Leaf Village plans to host the Chunin Exams to train new shinobi from the village and from their allied villages. Among the entrants are Sasuke's daughter, Sarada, Mitsuki, an exceptionally talented yet mysterious shinobi… and Boruto, Naruto's talented but impetuous son. Meanwhile, Sasuke who's been on a mission in another dimension appears before Naruto to warn of a strange impending danger. Shrouded with an evil aura, Momoshiki and Kinshiki appear and attempt to assassinate Naruto. Petrified, Boruto is shielded by Naruto, only to disappear in front of Boruto's own eyes!
Source: Viz Media (Press Release)