It's time to meet the newest hero to step into the spotlight. Uh… again.
Earlier today, film distributor Pony Canyon started streaming the newest TV spot for Yuki Yuna Is a Hero: Washio Sumi Chapter: Friends (Yūki Yūna wa Yūsha de Aru: Washio Sumi no Shō: Tomodachi). The 30-second features opening theme song Sakiwafuhana as a background track.
Yuki Yuna Is a Hero: Washio Sumi Chapter was originally announced as a TV project, which would span six episodes. After their theatrical run, the films will be presented as the first six TV episodes of Yuki Yuna wa Yusha de Aru: Yusha no Sho. The three films will adapt Takahiro and illustrator Bunbun's light novel series of the same name.
Seiji Kishi (Assassination Classroom, Yuki Yuna Is a Hero) was tapped to serve as chief director on the project, with Daisei Fukuoka (Danganronpa 3: The End of Hope's Peak High School Despair & Future Arcs) helming the project at Studio Gokumi. Makoto Uezu (The Heroic Legend of Arslan, Scum's Wish) will return to take charge of series composition for the films.
The movie will star:
Sumi Washio: Suzuko Mimori
Sonoko Nogi: Kana Hanazawa
Gin Minowa: Yumiri Hanamori
Aki-sensei: Rina Satou
Opening theme song Sakiwafuhana will be performed by Suzuko Mimori. Each of the three films will feature a different closing theme:
Film 1 (Friends): Tomoadchi by Suzuko Mimori, Yumiri Hanamori & Kana Hanazawa
Film 2: Tamashii by Yumiri Hanamori
Film 3: Yakusoku by Suzuko Mimori and Kana Hanazawa
Japanese ticket sales website Movie Ticket slates the première dates as follows:
Film 1 (Tomodachi): 3/18/2017
Film 2: April 2017
Film 3: July 2017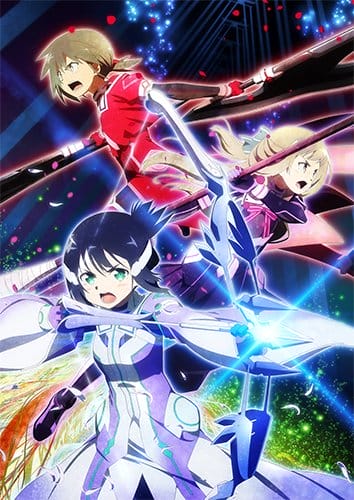 Yuki Yuna Is A Hero's first season aired during the Fall 2014 broadcast season. The series, which was helmed by Seiji Kishi at Studio Gokumi, ran for twelve episodes. Takahiro Sakai provided character designs on the series, while Makoto Uezu took charge of series composition.
PonyCan USA holds the rights to Yuki Yuna Is A Hero in North America. Crunchyroll streamed the show as it aired in Japan. They describe it as:
Yuna Yuki is an ordinary second-year middle school student. She gets up in the morning, gets ready for school, goes to classes, participates in club activities, and has fun with her friends. But there is one extraordinary thing about Yuki — she belongs to the "Brave Hero Club." What does the Brave Hero Club do? Who is the mysterious being called "Vertex?" Yuki Yuna and her friends' story takes place in Year 300, Era of the Gods.
Source: Twitter (pKjd)