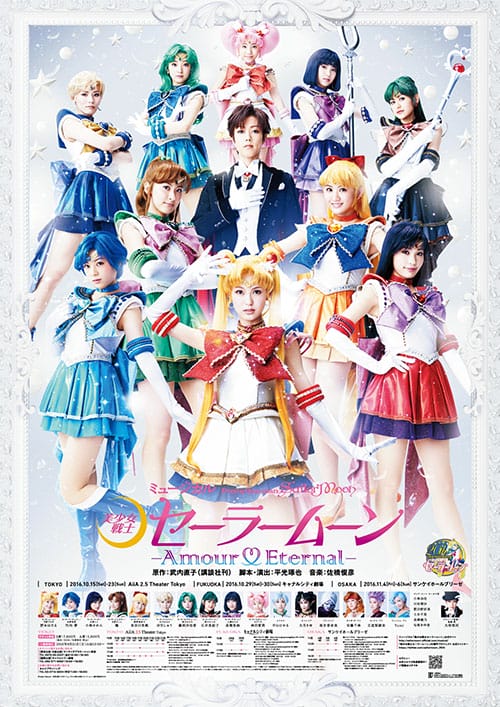 Moon, stagecraft power, make up!
The Asahi Shimbun reports that the Sailor Moon musicals are making their way to the United States. A special performance of the show, titled Pretty Guardian Sailor Moon: The Musical-Amour Eternal, will be held during this year's Anime Matsuri convention.
The musical will be performed by members of the original Japanese cast, who will fill the roles of characters from the franchise, including the nine Sailor Guardians and Tuxedo Mask. This will be the  first time that a Sailor Moon musical has been held in the United States.
Sailor Moon is based on Naoko Takeuchi's manga of the same name. The series, which ran from 1992 through 1997, saw Kunihiko Ikuhara (Penguindrum, Revolutionary Girl Utena), Junichi Sato (Aria The Animation, Magic User's Club!), and Takuya Igarashi (Bungo Stray Dogs, Soul Eater) take the helm through the course of the show's run. Toei Animation produced the title's animation.
In 2014, Viz Media announced that they acquired the domestic rights to the entire run of the original Sailor Moon, as well as Sailor Moon Crystal. The company will release all 200 episodes, three feature films, and myriad specials in the franchise.
Viz released Sailor Moon S's first set on DVD and Blu-Ray on November 15.
Source: Asahi Shimbun (Thanks to L.B. Bryant for the tip!)