The Chupacabra Kingdom ready to expand to all-new frontiers.
Yesterday, Funimation announced that they will add Sakura Quest to their Spring 2017 SimulDub lineup. The series will kick off on FunimationNow starting on May 4. As of press time, the adaptation's cast hasn't been unveiled.
Sakura Quest debuts on Japanese TV on April 5. The show will début on Tokyo MX, ABC, and AT-X. BS11 and Tulip TV will run the show after the première.
Soichi Masui (Chaika – The Coffin Princess, Scrapped Princess) is directing Sakura Quest, which features character designs by BunBun (Yuki Yuna Is a Hero, Izetta: The Last Witch). Masahiro Yokotani (Free! – Iwatobi Swim Club, Re:Zero) will supervise the show's scripts. "Alexandre S. D. Celibidache" is credited with the original concept.
(K)NoW_Name will perform opening theme Morning Glory.
The confirmed voice cast includes:
Yoshino Koharu: Ayaka Nanase
Shiori Shinomiya: Reina Ueda
Maki Midorikawa: Chika Anzai
Ririko Oribe: Chiemi Tanaka
Sanae Kozuki: Mikako Komatsu
Angelica: Nanako Mori
Chitose Oriba: Maki Izawa
Erika Suzuki: Tomoyo Kurosawa
Mino: Daiki Hamano
Mr. Sandal: Vinay Murthy
Takamizawa: Katsuyuki Konishi
Ushimatsu Kadota: Atsushi Ono
Yamada: Hiro Shimono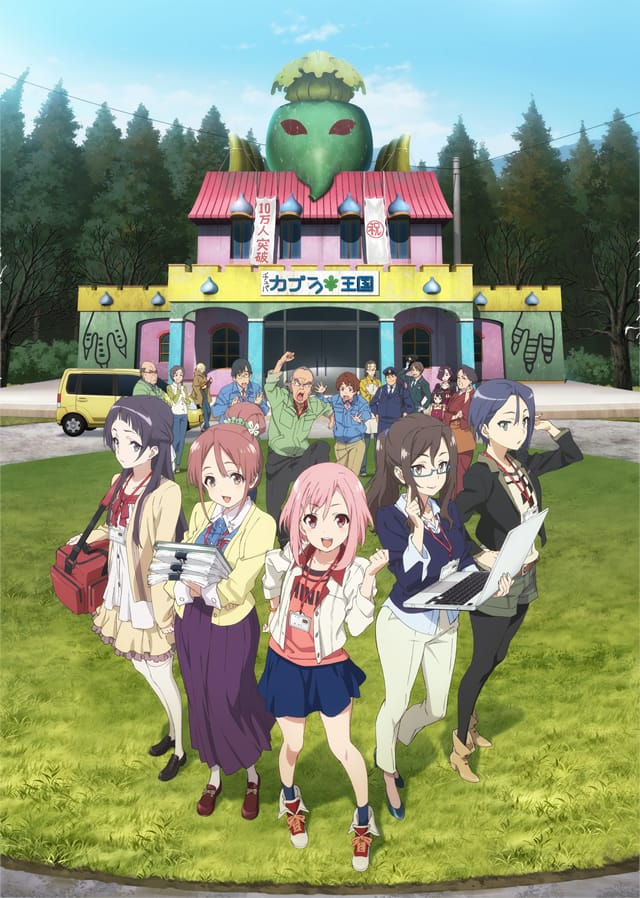 Sakura Quest will revolve around five young women who work for the tourism bureau of Manoyama, a small rural town. To boost visitors, the town revives its "micro-nation" program, which originally ran in the 1980s, during Japan's bubble economy. The ladies were brought onboard as tourism ambassadors, also known as "monarchs."
The show will depict the five girls' lives on the job at the tourism bureau, and show how they grow and change over the course of a year.
The major characters include:
Yoshino Koharu
Yoshino's the protagonist. She loathes the quiet small-town life, and wants nothing more than to strike out on her own in the big city. She actually did move to Tokyo once, with the goal of becoming something "special." Unfortunately, she couldn't find what, exactly, she wanted to do there. Over thirty companies turned Yoshino down during her most job hunt, and was actually hired as a "monarch" by sheer coincidence.
New job in hand, Yoshino headed to the town of Manoyama. She's quick to make friends, but has a very serious side beneath her cheerful exterior. She has a bit of a complex about how utterly "normal" she is.
Shiori Shinomiya
Shiori works with Yoshino at the tourism board. Unlike Yoshino, Shiori adores her hometown of Manoyama, and tends to be very conservative in her views. She has a bright, positive attitude, and will go out of her way to help people.
She prefers to keep order in her life, and has a real knack for common household chores.
Maki Midorikawa
Maki had dreams of being an actress… once. After utterly failing to make it in show business, she returns home to Manoyama.
Maki is a fairly cool character, with a "big sister" attitude. She's used to dealing with various part-time jobs, as she had to make ends meet while performing in a small theater troupe.
Ririko Oribe
We all know someone like Ririko. She's the type of girl who hates her rural hometown, but lacks the courage to set out on her own. Since graduating high school, Ririko's been unable to land a real job, and spends her days cooped up at home, surfing the net. She's not good with people, and gets anxious around people she doesn't know. In fact, Shiori is the only person in this sad world that Ririko calls "friend."
Sanae Kozuki
Sanae moved to Manoyama about a half a year before Yoshino. SHe was born and raised in Tokyo, and landed a job at an IT company after graduating from university. Ultimately, though, this wasn't the life she wanted. Sanae wanted to lie a healthy lifestyle of conservation and sustainability, so she quit her job, and moved into an old Japanese-style home.
Sanae works as a web designer, and she's super conscious about appearing "interesting" to those around her.
The supporting cast includes:
Angelica
Angelica runs a restaurant in town, and offers fortune telling services.
…What? A person can do two things!
Chitose Oriba
Chitose Oriba is Ririko's grandmother and president of Manoyama's commerce association. Sadly, due to a bad relationship with the tourism bureau, Oriba ends tends to contradict Ushimatsu whenever she can. When she's not sticking it to Ushimatsu, Oribe runs a Japanese candy store.
Erika Suzuki
Erika Suzuki is Angelica's daughter. She's a second-year and middle school, and tends to help out at the restaurant however she can. This includes serving customers.
That said, though, Erika hates the country life. Moreover, she seems generally disinterested in everything.
Mino
Mino is an employee at the Manoyama tourism bureau. He helps to keep Ushimatsu in check when he gets reckless.
Mr. Sandal
Mr. Sandal is a mysterious foreigner who has a particular interest in musical intruments and performance. He often meanders through the town of Manoyama.
Takamizawa
Takamizawa drives the bus on the Manoyama route. Because of this, Takamizawa often finds himself dining at Angelica's restaurant. For some reason, he's always worn out.
Ushimatsu Kadota
Ushimatsu Kadota is the head of Manoyama's tourism bureau. He was also the first "King" of the town's tourist attraction, "Chupacabra Kingdom." Kadota accidentally called Yoshino back to Manoyama but, as they say, for every mistake is an opportunity.
Kadota aims to restore Chupacabra Kingdom. To do so, he burdens Yoshino, the new monarch, and her friends with various seemingly unreasonable tasks.
Yamada
Yamada is a staff member at the Manoyama tourism bureau. Basically, he's a check on Kadota's power, as well as a friendly face that watches over Yoshino and her friends.
Two promo videos for Sakura Quest were previously released to promote the show. You can check these out below:

Source: Funimation (Industry Panel)