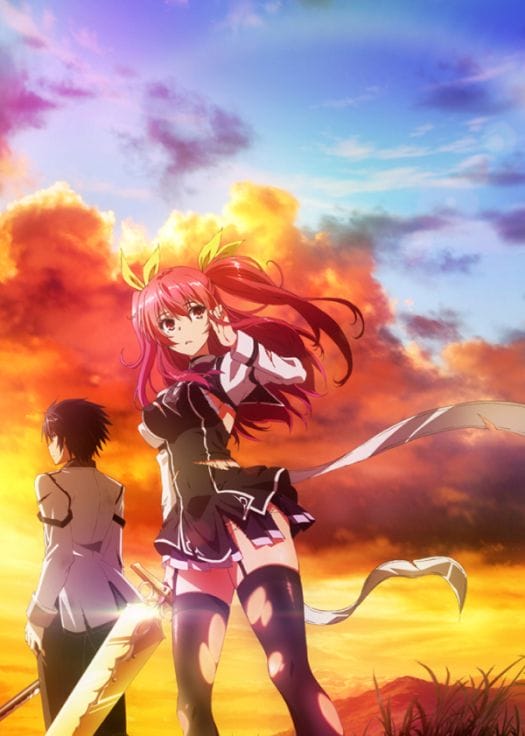 So, if this release performs well, would it be the Successful Chivalry of a Failed Knight?
Earlier today, Sentai Filmworks unveiled their English dub cast for Chivalry of a Failed Knight. The series will star the following:
Ikki Kurogane: Clint Bickham
Stella Vermillion: Luci Christian
Sizuku Kurogane: Juliet Simmons
Nagi Arisuin: Chris Patton
Ayase Ayatsuji: Chelsea Ryan McCurdy
Toka Todo: Stephanie Wittels
Kurono Shinguji: Kelly Manison
Kagami Kusakabe: Shannon Emerick
Nene Saikyo: Hilary Haag
Yuri Oreki: Molly Searcy
Utakata Misogi: Kalin Coates
Renren Tomaru: Tiffany Grant
Ikasuchi Saijyo: Jack Ivy
Kanata Totokubara: Shelley Calene-Black
Kuraudo Kurashiki: Andrew Love
Shizuya Kirihara: Blake Shepard
Bisho: Mark X Laskowski
Ryoma Kurogane: Josh Morrison
Torajiro Nango: Carl Masterson
Mamoru Akaza: James Belcher
Itsuki Kurogane: David Matranga
Lord Vermillion: Josh Morrison
Kaito Ayatsuji: Luis Galindo
Hangetsu Tsukuyomi: Shanae'a Moore
Mikazuki Tuskuyomi: Cara Duncan
Announcer: Natalie Rial
Manabe: Tyler Galindo
Yakin: Greg Cote
Momotani: Cameron Bautsch
Sugawara: Bryson Baugus
Onitama: Hilary Haag
Young Ikki: Tiffany Grant
Additional Voices: Christopher Ayres
Additional Voices: Katelyn Barr
Additional Voices: Bryson Baugus
Additional Voices: Cameron Bautsch
Additional Voices: Shelley Calene-Black
Additional Voices: Greg Cote
Additional Voices: Johnny DeLaCerda
Additional Voices: Cara Duncan
Additional Voices: Shannon Emerick
Additional Voices: Luis Galindo
Additional Voices: Tyler Galindo
Additional Voices: Tiffany Grant
Additional Voices: Karlii Hoch
Additional Voices: Jack Ivy
Additional Voices: Mark X Laskowski
Additional Voices: Andrew Love
Additional Voices: David Matranga
Additional Voices: Chelsea Ryan McCurdy
Additional Voices: Carolyn Medrano
Additional Voices: Shanae'a Moore
Additional Voices: Josh Morrison
Additional Voices: Natalie Rial
Additional Voices: Blake Shepard
Additional Voices: Allen Titel
Christopher Ayres is directing the adaptation, which features scripts by David Wald.
Sentai released a minute-long dub teaser to promote the news, which features Clint Bickham and Luci Christian as Ikki and Stella.
Chivalry of a Failed Knight is based on the light novel series of the same name by Riku Misora. Shin Oonuma (Baka and Test, Watamote) directed the series, with Jin Tamamura filling the role of Series Director. Character designs were provided by Sei Komatsubara. Shogo Yasukawa (Food Wars! Shokugeki no Soma, Terraformars) is handling the show's composition, and Jin Aketagawa was in charge of sound direction. The actual animation was provided by the two-studio team of Silver Link and Nexus.
Sentai Filmworks describes Chivalry of a Failed Knight as:
For Ikki Kurogane, graduating as a Magical Knight is nigh impossible. Among Blazers, he's considered the worst; he can materialize his soul into a weapon, but his magical power is extremely low. To add insult to injury, an unfortunate encounter with the talented and beautiful Princess Stella Vermillion slashes his already slim odds and alters the course of his life forever.
Source: Sentai Filmworks