We're over the wall, and deep in the world of promotional materials.
Earlier today, the official Lu Over the Wall (Yoake Tsugeru Lu no Uta) anime website updated with two new teaser trailers.
The first trailer, listed as "notice video", features a glimpse of the film in action. Actor Soma Saito serves as a narrator, explaining the film's plot.
The second trailer is a short interview between director Masaaki Yuasa and Soma Saito.
Lu Over the Wall opens in Japanese theaters on May 19.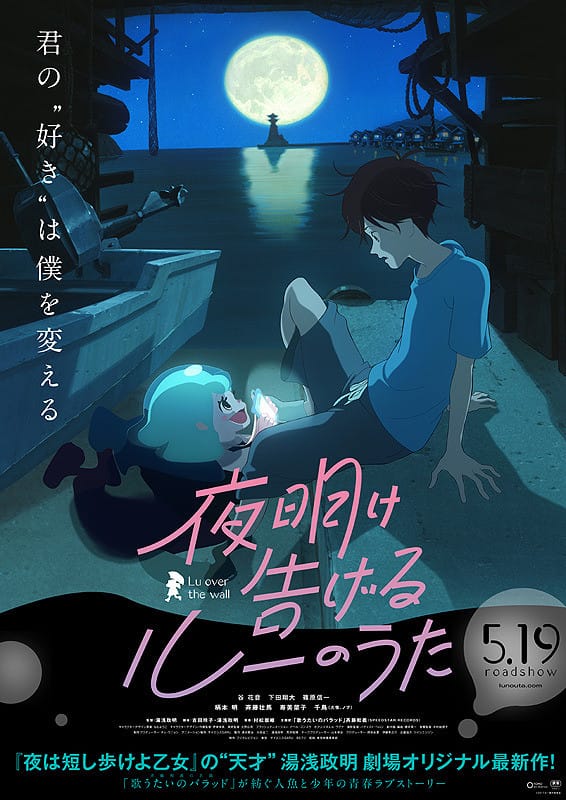 Lu over the wall is an original work from studio Science SARU. Masaaki Yuasa (The Tatami Galaxy, Ping Pong) directed the feature and co-wrote the script with Reiko Yoshida (The Cat Returns, Yowamushi Pedal). Nobutake Ito (The Tatami Galaxy, Ping Pong) provided character designs, while Takatsugu Muramatsu (When Marnie Was There, Mary and the Witch's Flower) scored the soundtrack.
The confirmed voice cast includes:
Lu: Kanon Tani
Kai: Shota Shimoda
Grandfather: Akira Emoto
Yuho: Minako Kotobuki
Lu's father: Shinichi Shinohara
Kunio: Soma Saito
Three teasers were streamed last month, which include interviews with Kanon Tani, Shota Shimoda, and Shinichi Shinohara.
Interview: Kanon Tani
Interview: Shota Shimoda
Interview: Shinishi Shinohara
Source: YouTube (Toho Animation Channel)