I'll take "Cast Reveals" for 500, Alex.
Earlier today, the official 7O3X: Fastest Finger First anime website updated with three new cast members. The following roles were officially unveiled:
Yuki Kouzuki: M・A・O
Chiaki Sonohara: Ayane Sakura
Kunimitsu Okura: Tomoaki Maeno
Toei teased the latest round of reveals in a pair of "Question" and "Answer" videos:
Question
Answer
7O3X: Fastest Finger First will première on NTV's AnichU block on July 4, at 25:59 (7/5/2017 at 1:59AM). The series is slated to run for twelve episodes.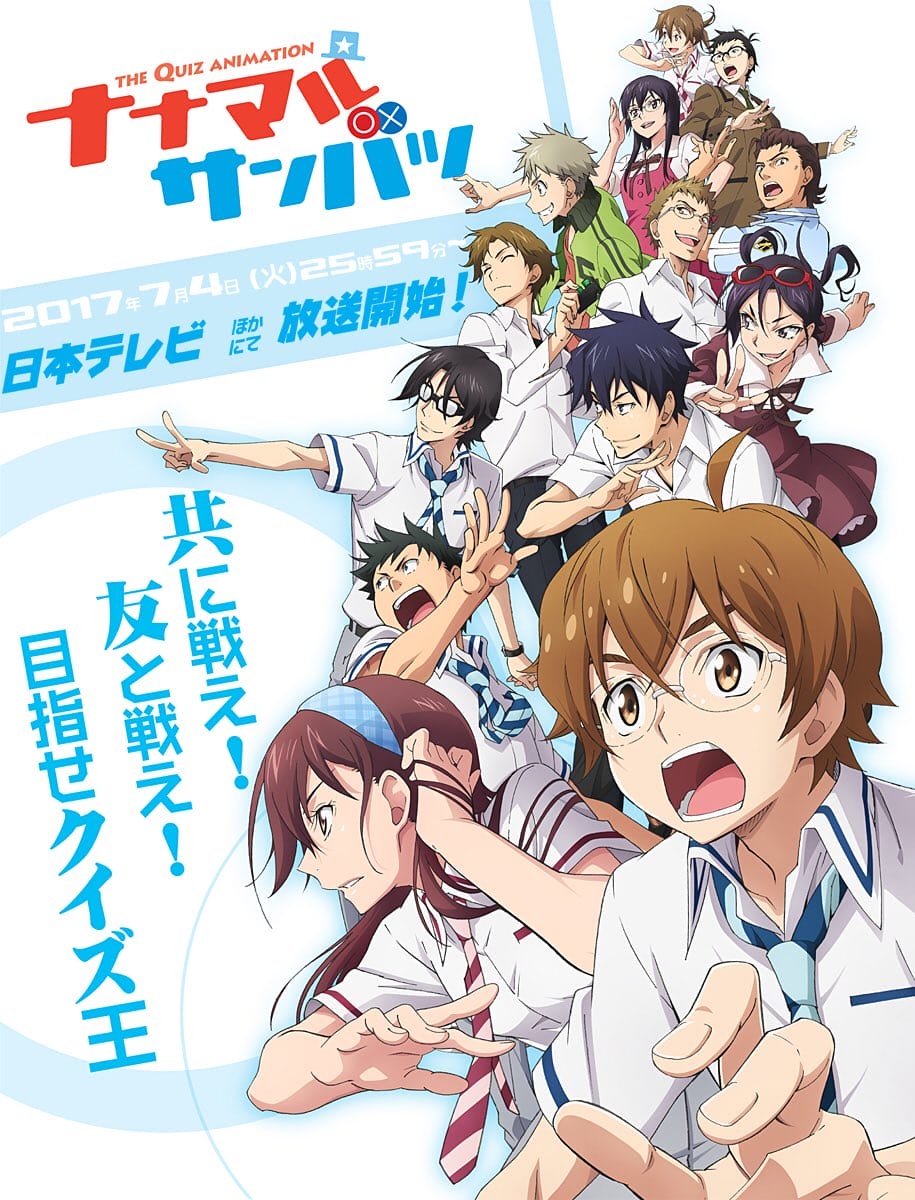 7O3X: Fastest Finger First will adapt Igura Sugimoto's Nana Maru San Batsu manga series. Masaki Ōzora (Dirty Pair: Affair on Nolandia, Lupin III: Dragon of Doom) is directing the project at TMS Entertainment, with Makoto Takahoko (Thunder Jet) providing character designs. Yuuko Kakihara (Chihayafuru 2, Orange) is in charge of series composition.
Babyraids Japan will perform closing theme song ○○○○○.
The confirmed voice cast includes:
Shiki Koshiyama: Shun Horie
Mari Fukami: Umika Kawashima
Chisato Mikuriya: Kaito Ishikawa
Jinko Sasajima: Satsumi Matsuda
Akira Sonohara: Takuma Nagatsuka
Gakuto Sasajima: Takuya Satō
Daisuke Inoue: Tasuku Hatanaka
Yosuke Ashiya: Wataru Hatano
Takumi Niina: Tatsuhisa Suzuki
Nana Maru San Batsu launched in the pages of Kadokawa's Young Ace magazine in November 2010. To date, thirteen compiled volumes have been produced for the series, with the most recent hitting stores on December 31.
Several character visuals and a teaser trailer were released to promote 7O3X: Fastest Finger First, which you can check out below:
Promo Video
Character Visuals
Source: MoCa News