We're not squiddin' ya, Squid Girl season 2 is getting a dub, too!
Earlier today, Sentai Filmworks revealed that they're producing English dubs for five titles. The company will dub the following:
Haikyu!!
Flip Flappers
Tanaka-kun is Always Listless
Haven't You Heard? I'm Sakamoto
Squid Girl Season 2
Sentai will release a boxed set for Haikyu!!. Pre-orders open tomorrow, though specific details are unknown.
Haikyu!!
Haikyu! is an ongoing sports anime (volleyball, specifically) based on Haruichi Furudate's manga of the same name. The series began airing in the Spring 2014 season. Susumu Mitsunaka directs the project at Production I.G. Takahiro Kishida(Durarara!!) is in charge of character designs for the show, while Taku Kishimoto takes charge of the scripts.
Sentai describes Haikyu!! as:
Hinata may be small, but he more than makes up for it with willpower! Hoping to become the next big name in volleyball, Hinata takes to the court in middle school only to be shot down in his first match by "King of the Court" Tobio Kageyama. Now Hinata is in high school, and he's more determined than ever to join the school's team and prove his worth! But when Kageyama resurfaces as a teammate, they will have to learn to play together if they want to make it to the championship.
Flip Flappers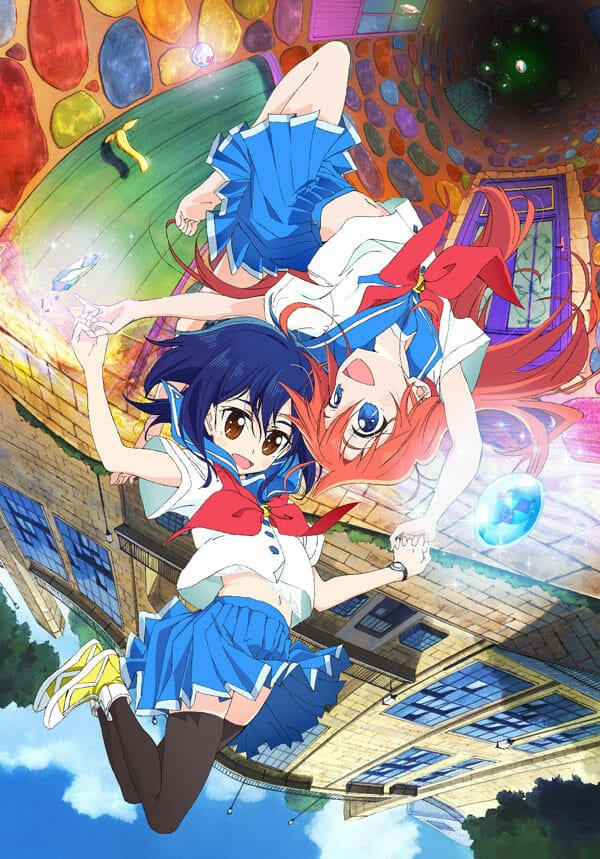 Flip Flappers is an original series from Studio 3HZ, which aired in the Fall 2016 broadcast season. Kiyotaka Oshiyama directed the project at Studio 3Hz, with Takashi Kojima providing character designs.
Sentai describes Flip Flappers as:
Cocona is a model honor student, cautious and slow to embrace new opportunities. This makes life complicated when a mysterious girl named Papika suddenly appears, fearlessly searching for a wish-granting crystal called the "Shard of Mimi." When fates collide and they're given the ability to transform into powerful fairy-like beings, where will the dangerous journey into "Pure Illusion" take them?
Tanaka-kun is Always Listless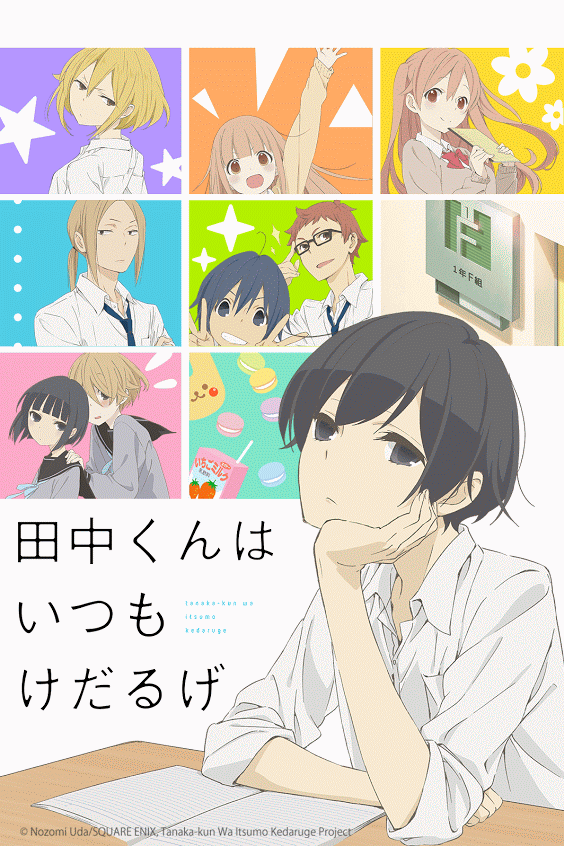 Tanaka-kun is Always Listless is based on Nozomi Uda's manga of the same name. Shinya Kawatsura (Non Non Biyori, Kokoro Connect) directed the project at Silver Link, with Haruko Iizuka (Little Busters!, Ōkami-san & Her Seven Companions) providing character designs. Akemi Omode (Getbackers, Kyo kara Maoh!) was in charge of series composition.
Sentai describes Tanaka-kun is Always Listless as:
Adapted from the popular web manga series published by Square Enix, this unconventional, surrealist comedy follows an exhausted high school boy who, despite multiple attempts from his friends, still manages to spectacularly… sleep. Much to the chagrin of the energetic (at times bossy) Ohta, Tanaka is often found in a blissful state of lethargy, possessing the ability to doze off in any situation, especially in mid-sentence!
Haven't You Heard? I'm Sakamoto
Haven't You Heard? I'm Sakamoto is based on Nami Sano's manga of the same name. Shinji Takamatsu (Gintama, School Rumble) directed the project at Studio Deen, with Atsuko Nakajima (Ranma ½, You're Under Arrest!) served as character designer. Yasuhiko Fukuda (Kocchi Muite Miko) is composed the soundtrack.
Just who is Sakamoto? He's enigmatic. He's clever. He's dashing. No challenge is too great and no cause is too small for Sakamoto. Girls love him, guys hate him for it, and despite efforts to humiliate him, Sakamoto is flawlessly able to emerge from the fray, even cooler than ever. Who knows what Sakamoto is going to do next? Whatever it is, it will be fabulous!
Squid Girl
Squid Girl is based on Masahiro Anbe's manga of the same name. The 2010 series was directed by Tsutomu Mizushima (Prison School, Genshiken) at diomedia, with Masakazu Ishikawa (Aho Girl, Cute High Earth Defense Club LOVE!) providing character designs. Michiko Yokote (Genshiken, ReLIFE) was in charge of series compositoin.
Sentai describes Squid Girl as:
The cutest little tentacle-haired invader from the sea, Squid Girl, has come to subdue humanity! Unfortunately, she's in hot water with the Aizawa siblings after a demonstration of her squid powers destroys their restaurant, the Lemon Beach House. Now, she's forced to work as a waitress for them until she pays off her damages. Between her aquatic puns, bickering with the Aizawa sisters, tiffs with customers, and the many misadventures that come with seaside life, Squid Girl has her hands, and her tentacles, full!
Source: Sentai Filmworks (Industry Panel)