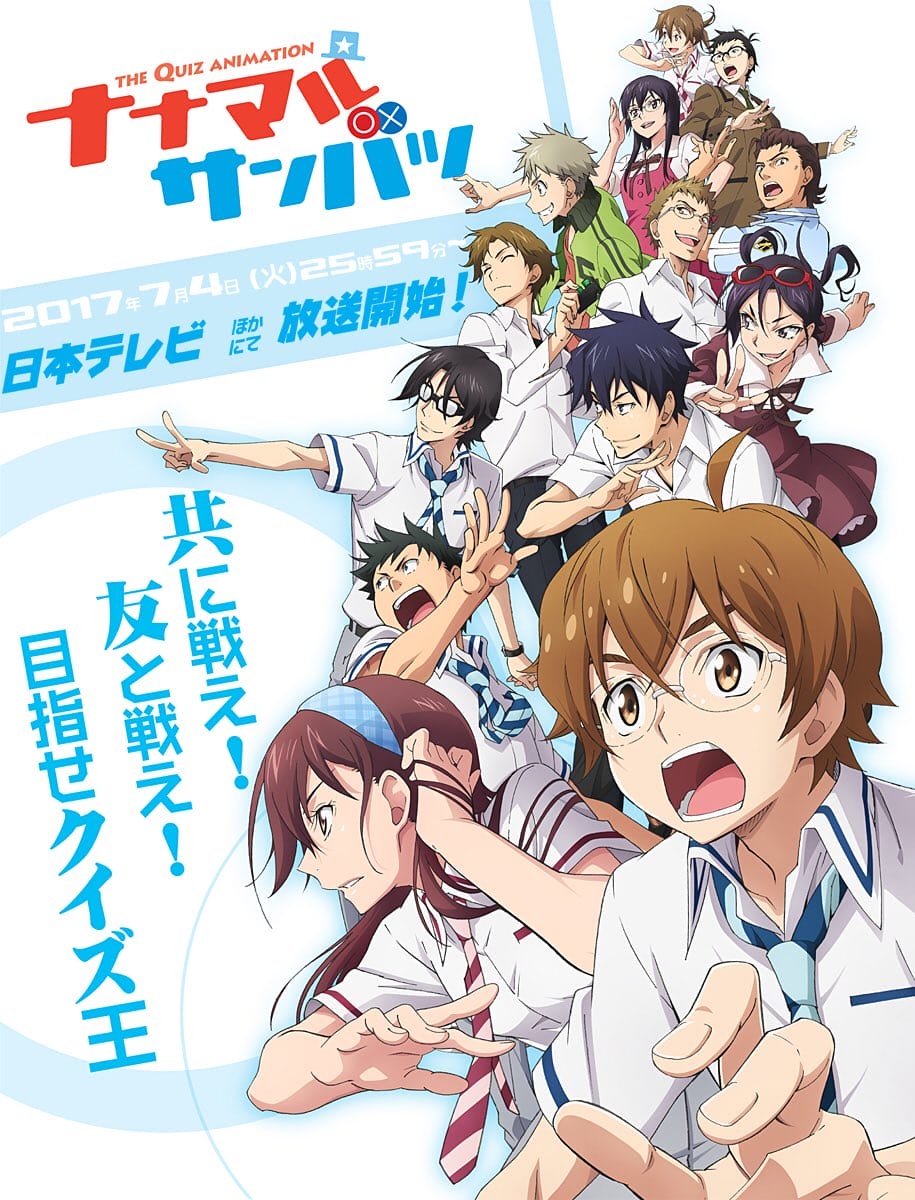 It looks like a few new contestants are on deck for excitement! Or, well… quizzes.
Earlier today, the official 7O3X: Fastest Finger First anime website updated with thirteen new cast reveals. The series added the following:
Minoru Hanabusa: Daisuke Kishio
Kotaro Tozuka: Makoto Furukawa
Seiji Fukami: Hikaru Midorikawa
Wataru Maruyama: Taku Yashiro
Ryōta Mukai: Yusuke Shirai
Toichirō Nakazawa: Genki Muro
Hajime Sasaki: Yoshitaka Yamaya
Fumika Kenmochi: Hisako Tōjō
Tamami Kogawa: Haruna Momono
Haruomi Konoe: Toshiki Masuda
Masaru Shibata: Junya Enoki
Yoshikatsu Kuroda: Shuuhei Iwase
Sei Koshiyama: Aki Nagao
7O3X: Fastest Finger First will adapt Igura Sugimoto's Nana Maru San Batsu manga series. Masaki Ōzora (Dirty Pair: Affair on Nolandia, Lupin III: Dragon of Doom) is directing the project at TMS Entertainment, with Makoto Takahoko (Thunder Jet) providing character designs. Yuuko Kakihara (Chihayafuru 2, Orange) is in charge of series composition.
Babyraids Japan will perform closing theme song ○○○○○. Mrs. Green Apple will provide opening theme song On My MiND.
The confirmed voice cast includes:
Shiki Koshiyama: Shun Horie
Mari Fukami: Umika Kawashima
Gakuto Sasajima: Takuya Satō
Chisato Mikuriya: Kaito Ishikawa
Daisuke Inoue: Tasuku Hatanaka
Akira Sonohara: Takuma Nagatsuka
Jinko Sasajima: Satsumi Matsuda
Yōsuke Ashiya: Wataru Hatano
Takumi Niina: Tatsuhisa Suzuki
Kunimitsu Ōkura: Tomoaki Maeno
Yuki Kōzuki: M.A.O
Chiaki Sonohara: Ayane Sakura
Nana Maru San Batsu launched in the pages of Kadokawa's Young Ace magazine in November 2010. To date, thirteen compiled volumes have been produced for the series, with the most recent hitting stores on December 31.
Several character visuals and a teaser trailer were released to promote 7O3X: Fastest Finger First, which you can check out below:
Promo Video
Character Visuals
Source: MoCa News