It looks like we have a couple of fantastic shows joining Crunchyroll's catalog… plus OniAi.
Earlier today, Crunchyroll announced that four titles will join their digital lineup. The following were added to Crunchyroll's catalog:
Fractale
Gungrave
OniAi
Scrapped Princess
Fractale
Fractale is available to members in the United States and Canada.
The series, which originally aired in the Winter 2011 broadcast season, was an original project from A-1 Pictures. Yutaka "Yamakan" Yamamoto (Wake Up, Girls!, Kannagi: Crazy Shrine Maidens) directed the title, which features character designs by Masako Tashiro (Suisei no Gargantia: Meguru Kōro, Haruka). Mari Okada (Black Butler, Mobile Suit Gundam: Iron-Blooded Orphans) was in charge of series composition.
Crunchyroll describes Fractale as:
Clain lives quietly amongst doppels—holograms that replace his parents and friends. Alone on a typical day, he saves a shrine maiden from pursuers and treats her wounds. He's mystified by her worldly charms, but she disappears—leaving only a pendant behind. When a curious girl emerges from the amulet, Clain's life takes a chaotic turn as he seeks to unlock the secrets his new friend holds.
Gungrave
Gungrave is available to users in the United States, Canada, and South Africa.
The show is based on Sega and Red Entertainment's PlayStation 2 game of the same name. Toshiyuki Tsuru (Naruto the Movie: Guardians of the Crescent Moon Kingdom) directed the project at Madhouse, with Masanori Shino (Terraformars, All Out!!) providing character designs. Yousuke Kuroda (Gundam Build Fighters, Jormungand) took charge of series composition for the title.
Crunchyroll describes Gungrave as:
Death doesn't matter to Brandon Heat. Driven by vengeance, he's back from the grave and bent on crippling Millennion, a massive mafia organization with legions of undead monster enforcers. Armed with his twin handguns—Ceruberus—and a coffin full of heavy weapons, Heat won't stop until Millennion's leader—and Brandon's former best friend—Harry McDowel is destroyed.
OniAi
OniAi is available to users in the United States, Canada, United Kingdom, Ireland, Australia, and New Zealand.
The series is based on Daisuke Suzuki and illustrator Gekka Urū's light novel series Onii-chan Dakedo Ai Sae Areba Kankei Nai yo ne. Keiichiro Kawaguchi (Nyan Koi!, Hayate the Combat Butler) directed the show at Silver Link, with Kōsuke Kawamura (Tenchi Muyo! War on Geminar, Frame Arms Girl) providing character designs. Kazuyuki Fudeyasu (Ben-To, Monster Musume) was in charge of series composition.
Crunchyroll describes OniAi as:
Akiko is thrilled to be reuniting with Akito, the handsome older brother she hasn't seen in years! In fact, she might be a little too excited. This pint-sized cutie has a big brother complex, and she's not interested in sharing his attention. Unfortunately for little sister, she and Akito won't be living alone: three gorgeous girls from the student council will be along for the ride!
Scrapped Princess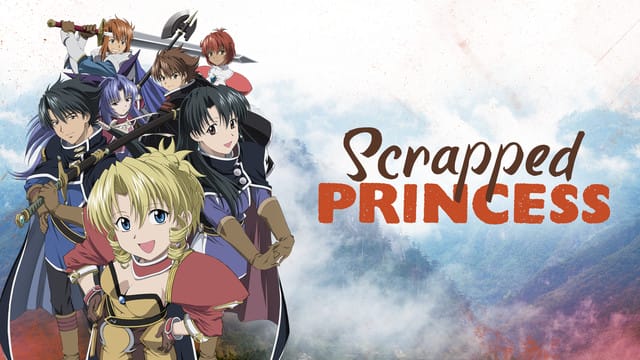 Scrapped Princess is available to members in the United States, Canada, United Kingdom, Australia, New Zealand, South Africa, Iceland, Sweden, Norway, Denmark, and the Netherlands.
The show, which aired in the Spring 2003 broadcast season, is based on Ichiro Sakaki's light novel series of the same name. Soichi Masui (Chaika – The Coffin Princess, Sakura Quest) directed the project at Bones, with Takahiro Komori (Darker than Black, Angelic Layer) providing character designs. Reiko Yoshida (Bakuman., Girls und Panzer) wrote the series's scenario.
Crunchyroll describes Scrapped Princess as:
From the studio that brought you Fullmetal Alchemist and Eureka Seven comes a fantasy adventure full of laughter, heartbreak, and the secrets of a time long forgotten.

Pacifica Cassul is a kindhearted girl living on the run, for prophecy has named her the poison that would destroy the world. Known as the Scrapped Princess, she's the target of countless followers of a powerful religion. But even when it seems like the whole world is out to get her, she always has her two adoptive siblings—Shannon and Raquel. Together they travel the countryside, making new friends and battling countless foes. Bit by bit, they uncover the incredible truth behind the prophecy and its ties to mysterious events from 5,000 years ago. With the fate of the world in her naïve hands, Pacifica and her siblings must learn who to trust and take on enemies of godly power. But for all their struggle, should such a poison be allowed to live?
Source: Crunchyroll