Missing in Action: Garnet, Amethyst, Pearl, and Steven.
Sorry, I can't help myself.
Earlier today, the official Land of the Lustrous (Houseki no Kuni) anime website updated with several new details. A new trailer and visual hit the web, along with major cast and premiere schedule details.
We break everything down below:
Promo Video
The two-minute trailer offers a brief look at the series in action, and outlines the core plot beats. Character dialogue is used to narrate the scenes.
Key Visual
The new visual features the major characters, set against a stark white background. The character images are identical to those of the visuals that have hit the web over the past few months.
Cast
The confirmed voice cast for the project includes:
Phosphophyllite: Tomoyo Kurosawa
Cinnabar: Mikako Komatsu
Bort: Ayane Sakura
Diamond: Ai Kayano
Rutile: Yumi Uchiyama
Goshenite: Saori Hayama
Morganite: Mutsumi Tamura
Jade: Ayahi Takagi
Benitoite: Ari Ozawa
Zircon: Himika Akaneya
Neptunite: Atsumi Tanezaki
Euclase: Mamiko Noto
Yellow Diamond: Junko Minagawa
Alexandrite: Rie Kugimiya
Maaya Uchida as Red Beryl
Amethyst 33: Kanae Itō
Amethyst 84: Kanae Itō
Obsidian: Ryō Hirohashi
Kongou: Jôji Nakata
Premiere
Land of the Lustrous will première in the following time slots
AT-X: 10/7/2017 at 21:30 (10/7/2017 at 9:30PM)
Tokyo MX: 10/7/2017 at 22:00 (10/7/2017 at 10:00PM)
BS11: 10/7/2017 at 23:00 (10/7/2017 at 11:00PM)
MBS: 10/7/2017 at 26:38 (10/8/2017 at 2:38AM)
AT-X will hot re-broadcasts on Sundays at 21:30 (9:30PM), Tuesdays at 13:30 (1:30PM), and Fridays at 5:30 (5:30AM).
Land of the Lustrous is based on Haruko Ichikawa's manga of the same name. Takahiko Kyogoku (Love Live! School Idol Project, Pretty Rhythm franchise) was tapped to direct the project at Orange, with Asako Nishida (Love Live! franchise, Haruchika – Haruta & Chika) filling the role of character designer. Toshiya Ono (Gatchaman Crowds, Blue Exorcist: Kyoto Saga) is in charge of series composition.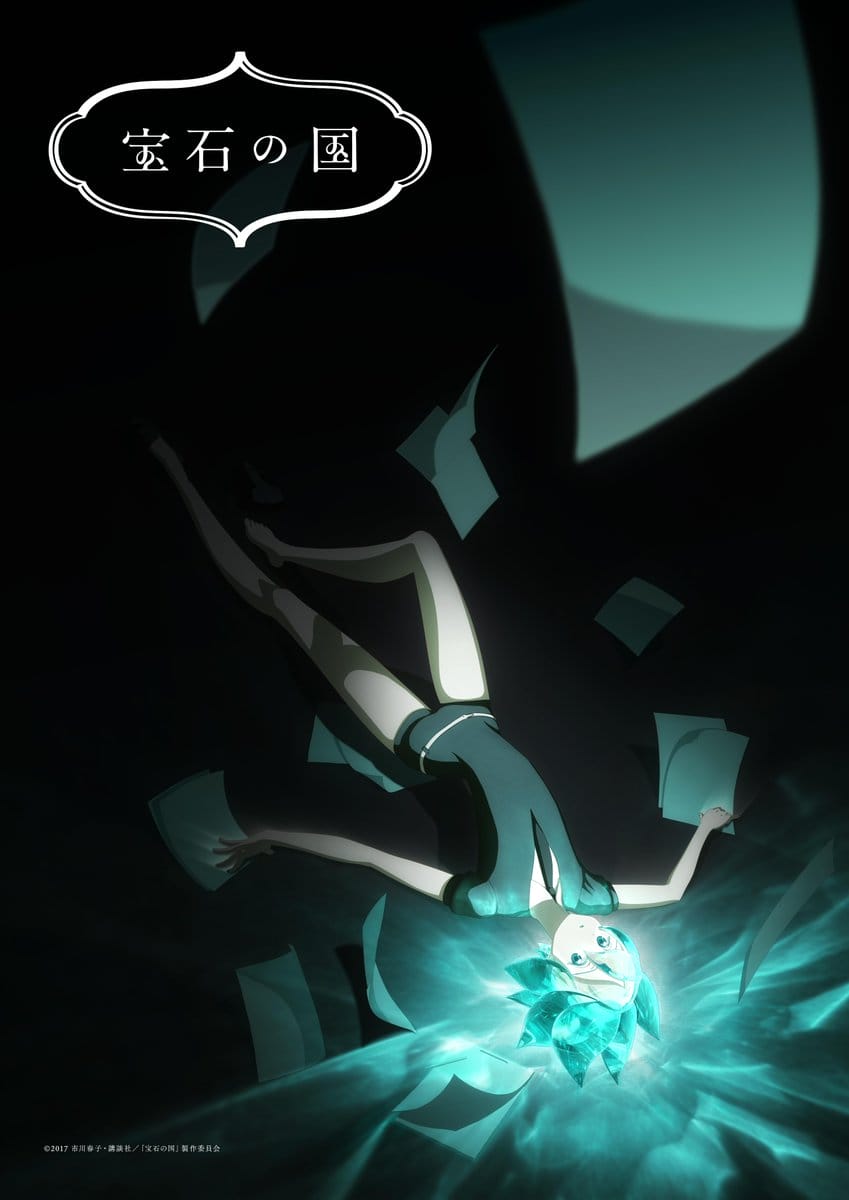 Houseki no Kuni began publication in the pages of Kodansha's Afternoon magazine in December 2012. The ongoing series currently has six collected volumes, with the seventh due to hit stores on May 23.
The series is set in a distant futrue, where a race of jewels take the form of people. These new beings, called Gems (Houseki) spend their days fighting against enemies from the moon, known quite bluntly as "Moon People" (Tsukijin), who want their crystal gem bodies for some unspecified reason.
Among the Gems is Phosphophyllite (Phos, for short). They're weak by nature, due to a generally low hardness, and considered to be generally useless by their peers. One day, Phos received an assignment to create something only they can make: an encyclopedia. It's this task which spurs a journey of self-improvement.
A trailer for Land of the Lustrous hit the web last month. You can check it out below:
Several character visuals were also unveiled, which we've provided below:
Source: Otakomu