KyoAni's showing fans a bit of the creative process in their latest trailer.
Second take: Not sure how this escaped our attention before. Thanks, Reddit!
On October 6, Kyoto Animation started streaming a new teaser trailer for Violet Evergarden. The 22-second promo shows a short animation clip as it evolves from storyboards, to pencil tests, to animation tests, to the finished product.
「第3回京アニ&Doファン感謝イベント」メイキングステージ(10/29)で解説する特選カットが到着!カット完全版は10/21「ヴァイオレット」先行上映会でご覧下さい!https://t.co/iCgJlANc6N https://t.co/ego50N2ln9 #VioletEvergarden pic.twitter.com/LcK8PRFd7H

— 「ヴァイオレット・エヴァーガーデン」公式 (@Violet_Letter) October 6, 2017
Violet Evergarden will hit Japanese TV in January 2018. Netflix holds the global streaming rights to the title, and will distribute the series outside of Japan in Spring 2018. As of press time, a specific premiere date has yet to be revealed for either region.
The series made its global début on July 2, at Anime Expo.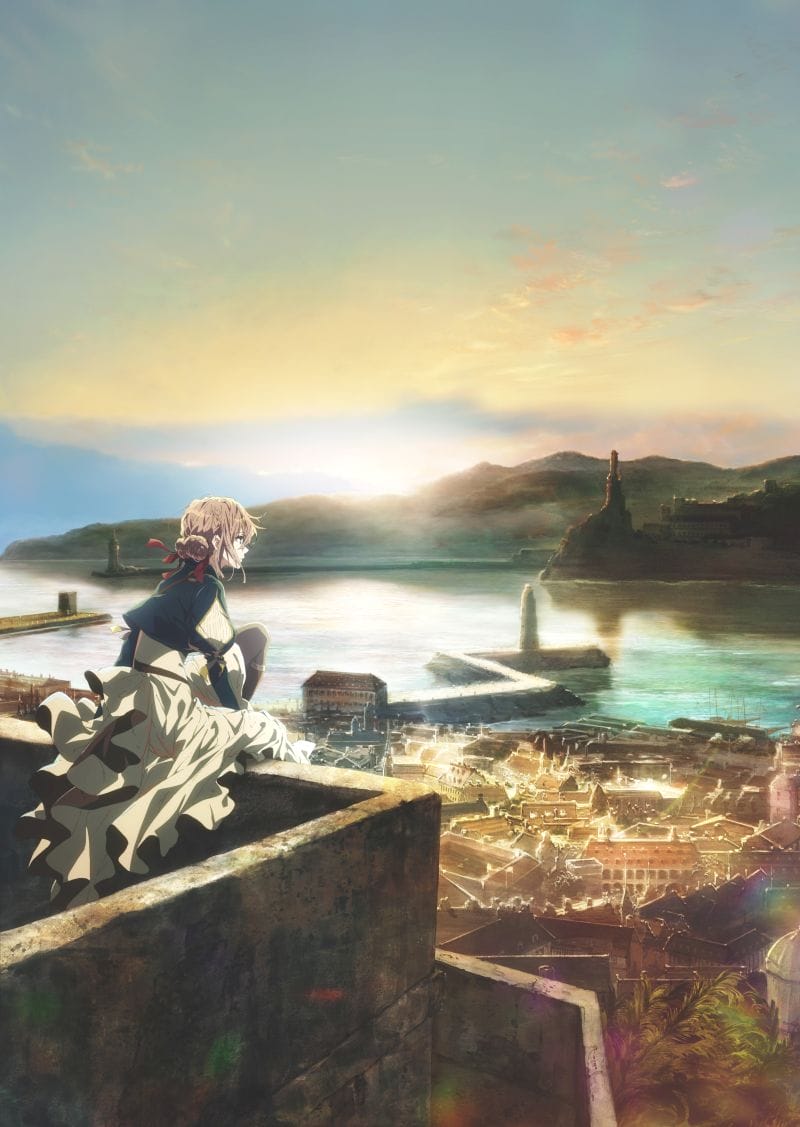 Taichi Ishidate (Beyond the Boundary) is directing the project at Kyoto Animation, with Akiko Takase providing character designs. Reiko Yoshida (K-On!! franchise, Girls und Panzer) is in charge of series composition.
TRUE was tapped to perform the show's opening theme.
Other confirmed crew members include:
Sound Director: Yota Tsuruoka
Opening Theme: TRUE
Music: Evan Call
The confirmed voice cast includes:
Violet Evergarden: Yui Ishikawa
Claudia Hodgins: Takehito Koyasu
Gilbert Bougainvillea: Daisuke Namikawa
Cattleya Baudelaire: Aya Endo
Benedict Blue: Kōki Uchiyama
Violet Evergarden is based on Kana Akatsuki's and illustrator Akiko Takase's novel series of the same name. The book hit Japanese bookstores in December. title, which was published under KA Esuma Bunko's imprint, won the grand prize in the fifth Kyoto Animation Award program's novel category in 2014. The win was significant, as it was the first time that any work took top honors at the Kyoto Animation Awards.
Anime Expo describes the project as:
There are words Violet heard on the battlefield, which she cannot forget. These words were given to her by someone she holds dear, more than anyone else. She does not yet know their meaning.
A certain point in time, in the continent of Telesis. The great war which divided the continent into North and South has ended after four years, and the people are welcoming a new generation.

Violet Evergarden, a young girl formerly known as "the weapon", has left the battlefield to start a new life at CH Postal Service. There, she is deeply moved by the work of "Auto Memories Dolls", who carry people's thoughts and convert them into words.

Violet begins her journey as an Auto Memories Doll, and comes face to face with various people's emotions and differing shapes of love. All the while searching for the meaning of those words.
Several character visuals and a pair of teaser trailers were released to promote Violet Evergarden. You can check these out below:
Promo Videos
Character Visuals
Source: Otakomu