Thank you for being a Franxx~!
Earlier today, the official DARLING in the FRANXX anime's Twitter account updated with several new teasers. A story trailer and key visual, along with several character visuals were released. We break the details down below:
Promo Video
The 36-second trailer offers a brief description of the show's plot, before confirming the show's premiere window.
オリジナルTVアニメーション「ダーリン・イン・ザ・フランキス」、2018年1月放送決定!

放送局:TOKYO MX/BS11/とちぎテレビ/群馬テレビ/ABC朝日放送/メ~テレ #ダリフラ https://t.co/ZCkxEIBv6p pic.twitter.com/KLexL2fJt7

— ダーリン・イン・ザ・フランキス (@DARLI_FRA) October 18, 2017
The trailer's text roughly translates to:
This place is a "birdcage."
A place that's closed-off, a place that's regulated.
There's just one reason to live-
It's our battle.
For the sake of our ancestors; for the sake of someday flying away; for the sakd of our world
For the sake of someday flying away-
But she (Zero Two) was different.
Will you be my Darling?
DARLING in the FRANXX will air in January 2018 on the following networks:
Tokyo MX
BS11
ABC Asahi Broadcasting
Gunma TV
Tochigi TV
Mētele
Key Visual
The visual features leading lady Zero Two seated in what appears to be the cockpit of her Franxx, "Strelizia".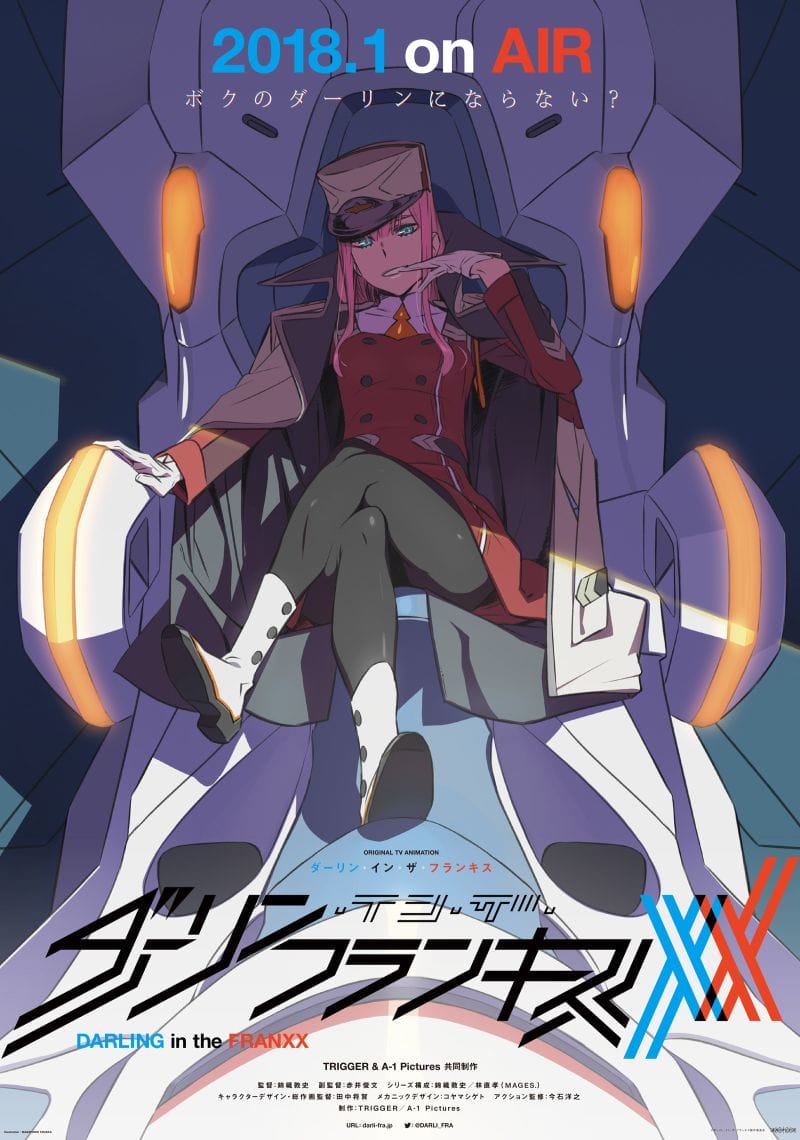 Character Visuals
Visuals for the major characters were unveiled on the DARLING in the FRANXX website, which you can check out below:
Characters
Franxx
DARLING in the FRANKXX is a co-production between Trigger and A-1 Pictures. Atsushi Nishigori (THE [email protected]) is directing the project, with Masayoshi Tanaka (anohana: The Flower We Saw That Day, High School of the Dead) providing character designs. The team of Atsushi Nishigori and Naotaka Hayashi will collaborate on series composition.
Other confirmed staff members include:
Assistant Director: Toshifumi Akai
Action Supervisor: Masayoshi Tanaka
Chief Animation Director: Masayoshi Tanaka
Mechanical Design: Shigeto Koyama
Trigger showed off a short reveal trailer for DARLING in the FRANKXX at Anime Expo. You can check it out below:
Source: Animate Times