Everybody needs a little more of this adorable metal-loving panda in their lives!
Earlier today, Sanrio announced that their Aggretsuko (Aggressive Retsuko) character will receive an original anime series. The show, which is slated to be a Netflix Original, will run for ten 15-minute episodes.
The title is currently scheduled to hit all regions in Spring 2018.
Rareko, who directed the first Aggretsuko TV series, is returning ot the director's chair at studio Fanworks. The director will also write the show's scripts.
A visual for the project was released, which you can check out below:
Retsuko's first anime series hit Japanese TV in April 2016. The ongoing series is a short-form title that airs during TBS's Ō-sama no Brunch program. To date, 85 episodes have been produced.
Sanrio introduced Retsuko to North America on January 5.
For the uninitiated, Retsuko is a Red Panda who isn't quite as sweet and happy as the rest of the Hello Kitty crew. Rather, she's a 25-year-old who works in an accounting firm and really just needs a hug. And maybe some good liquor.
Every day, the poor panda rides a packed train to her office, where she toils ceaselessly. Last minute labor is heaped upon her at the end of the day by uncaring management, and annoying coworkers crowd around to annoy with vapid chatter and those goddamn photos of the kids that nobody really wants to see, but ends up feigning interest in anyway. (God damn it, Brenda! I don't need to know when little Jimmy went to summer camp for the fiftieth time!)
Her escape from the stress comes from karaoke, where she takes a bit of alone time to belt out some death metal. Well, that and booze.
So, to sum it up, Retsuko is an underpaid cubicle dweller, who's trapped with annoying coworkers, and sings pissed-off death metal. In short, she's sure to resonate with more than a few cubicle dwellers who've been in her shoes on at least one occasion.
Several character visuals were also released for the series, which feature Retsuko, as well as coworkers Gori-san and Washimi-san. You can check these out below: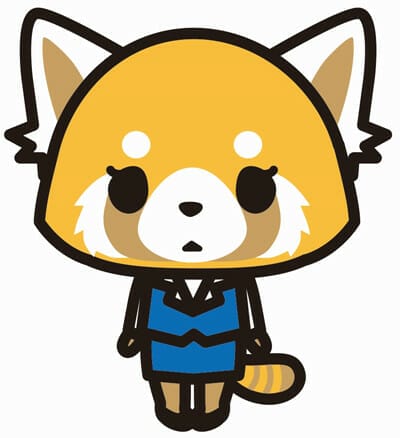 Source: Comic Natalie