Something tells me that we won't be seeing Saber and Shiro challenge Rin to a Shokugeki…
Earlier today, a teaser trailer for the upcoming Today's Menu for Emiya Family (Emiya-sanchi no Kyō no Gohan) anime hit the web. The 90-second promo features the show's opening sequence, with theme song Apron Boy by DJ Misoshiru and MC Gohan playing as a background track.
Emiya-san Chi no Kyou no Gohan OP#衛宮さんちの今日のごはん#Fate pic.twitter.com/78RhcFsdv1

— moetron | pKjd (@pKjd) December 31, 2017
The series will stream on AbemaTV. The first episode will hit the service on January 25, at 21:00 (1/25/2018 at 9:00PM) JST. Subsequent episodes will stream on the first of each month during the same time slot, starting in February.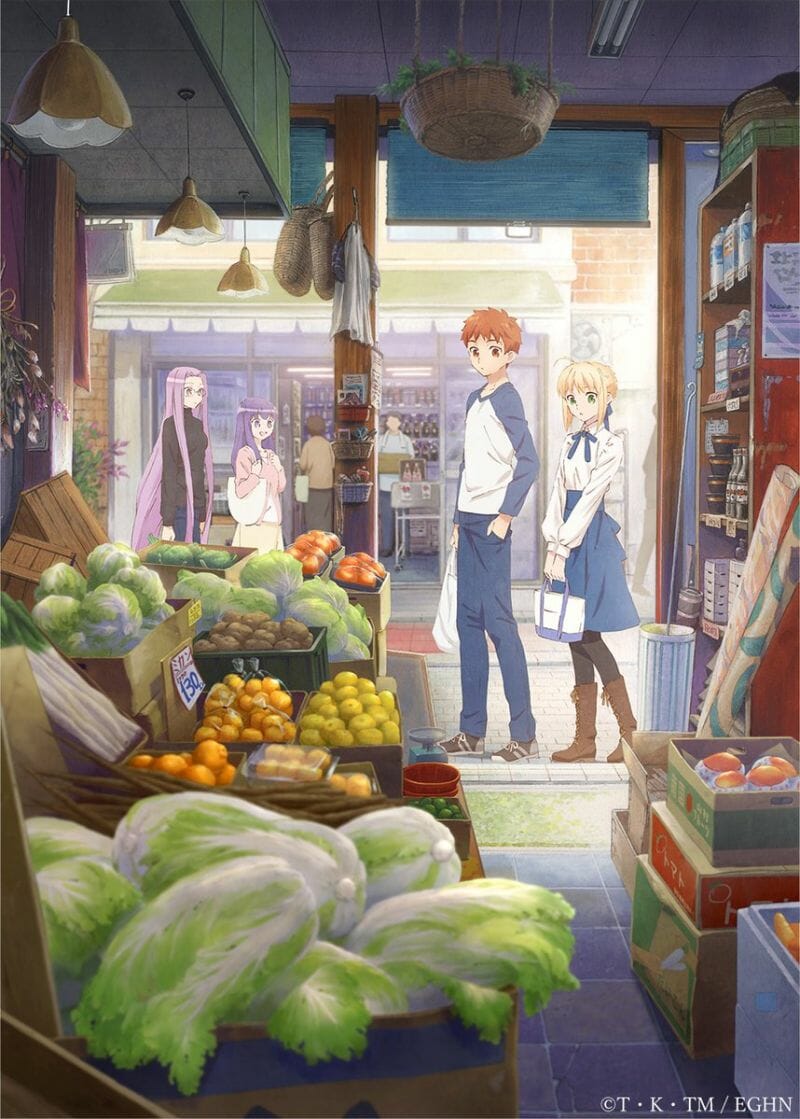 The team of Takahiro Miura (Fate/stay night: Unlimited Blade Works, The Garden of Sinners Episode 6) and Tetsuto Satō will direct Today's Menu for Emiya Family at ufotable, with Toko Uchimura (Katsugeki! Tōken Ranbu) providing character designs.
DJ Misoshiru and MC Gohan will collaborate on opening theme song Apron Boy, while Sangatsu no Phantasia performs closing theme Collage.
Other confirmed crew members include:
Original Character Design: TAa
Original Concept: TAa & Type-Moon
Food Supervisor: Makoto Tatano
Art Director: Kazuo Ebizawa
Director of Photography: Sae Yoshikawa
3D Animation Director: Daiki Teppōzuka
Color Key Artist: Yūko Ōmae
Color Key Artist: Yurie Ushio
Editor: Manabu Kamino is editing
Producer: Hikaru Kondo
Music: Gō Shiina
The confirmed voice cast includes:
Shiro Emiya: Noriaki Sugiyama
Saber: Ayako Kawasumi
Rin Tohsaka: Kana Ueda
Sakura Matou: Noriko Shimoya
Rider: Yu Asakawa
Ilya: Mai Kadowaki
Taiga Fujimura: Miki Ito
TAa's Emiya-sanchi no Kyō no Gohan manga launched on Kadokawa's Young Ace Up website in January 2016. To date, two volumes have been released, with the most recent hitting stores on December 26.
Source: Twitter (pKjd) (Thanks to L.B. Bryant for the tip!)