It looks like Love Live! Sunshine!!'s home is getting a bit of extra fan-love.
On January 15, the city of Numazu joined with Sunrise and Sony to launch a crowdfunding campaign based around Love Live! Sunshine!!. The initiative, which is being called the "Numazu Treasure Project," aims to create a number of tourist destinations devoted to the ladies of Aqours.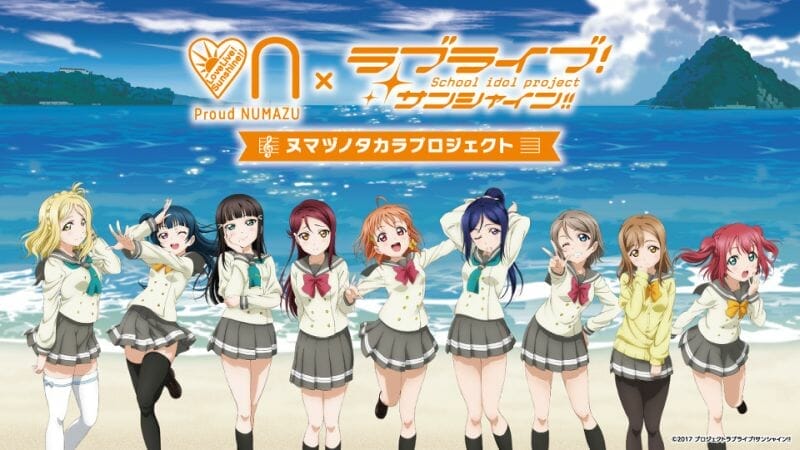 Specifically, the campaign aims to fund a series of nine manhole covers, each of which bears a full-color SD illustration of one of Aqours' members. The covers will be installed at nine noteworthy locations through the city.
The manhole covers will also be able to interact with AR app Butai Meguri. With the app, travelers will be able to scan the cover to see likenesses of the ladies of Aqours in spots that they've likely seen throughout the show.
The campaign has already crushed its 22.17 million yen ($200,094.77 USD), with 24 days remaining in the drive. The project currently sits at 136% funding, with 30,312,000 yen ($273,580.18) raised across 1,247 backers, with an average of 24,307 yen ($219.38 USD) per contributor.
The covers will belong to the city, meaning that they will remain installed for as long as the city deems fitting.
As of press time, no word has been given as to what additional funds will be used for.
Numazu was the main setting for the Love Live! Sunshine!! anime series.
Love Live! Sunshine!! is the latest entry in the Love Live! School Idol Project franchise. Kazuo Sakai (Mushi-Uta) helmed the project at Sunrise. Yūhei Murota and Jukki Hanada both reprised their roles on the project as character designer and series composition, respectively.
Funimation currently holds the domestic rights to Love Live! Sunshine!! The company describes Love Live! Sunshine!! as:
Uranohoshi Girls' High School, a private school in the seaside neighborhood of Uchiura at Numazu city, Shizuoka prefecture.

A small high school in a corner of Suruga Bay, it is home to nine teens,
led by second-year student Chika Takami, driven by one seriously big dream:

To become the next generation of bright, sparkling "school idols"!

As long as we don't give up, any dream can come true…
All we have to do now is keep pushing hard for glory!

Now their "School Idol Project" begins to make their dreams come true!
Source: Otakomu