This is an announcement that will likely have some old-school fans ready to burst with excitement.
Earlier today, AnimEigo launched their Kickstarter to produce a Blu-Ray release for the Gunsmith Cats OVA. The campaign aims to raise $75,000 by April 23, 2018.
As of press time, the campaign stands at $47,048 across 371 backers, with an average contribution of $126.81 per backer.
If funded, the Blu-Ray will include uncompressed Japanese (stereo) audio, as well as English stereo and 5.1 (ac3) tracks. Bonus features will include:
9-panel insert with new original art poster
Artwork slideshow
Clean opening credits
Reconstructed HD trailers
Music Video
The Making of Gunsmith Cats featurette (SD, from ADV's DVD release)
English commentary (from ADV's DVD release) featuring Matt Greenfield and Tiffany Grant
Two versions of the Blu-Ray will be produced:
Basic: Blu-Ray and Insert Poster
Premium: Blu-Ray and Insert Poster, along with a chipboard box and a Doujinshi/Artbook that features new work and a new Gunsmith Cats comic by Kenichi Sonoda
Two stretch goals have been announced so far:
$100,000: Commentary track featuring Gunsmith Cats creator Sonoda Ken'ichi, Arai Masahiro, and Kaza'ana Takanori.
$125,000: New 4-page Gunsmith Cats manga by Mr. Sonoda, included on a second 9-panel insert and in the Dojinshi/Artbook.
Other proposed stretch goals, which do not have monetary goals attached as of press time include:
Commentary track featuring Gunsmith Cats director Mori Takeshi and Satō Hiroki.
English commentary track for Episode 2 featuring Bennett the Sage and Marc Swint.
English commentary track for Episode 3 featuring [to be determined].
As part of the Kickstarter, AnimEigo is also hosting a fan art contest. Series creator Kenichi Sonoda will judge the contest and select the winners, whose work will appear in the official artbook that is being created for the project. The three Grand prize winners for the contest will receive a Premium Edition of the Gunsmith Cats Blu-Ray, as well as three bonus items of their choice, and three additional copies of the artbook.
AnimEigo announced that they acquired the rights to the Gunsmith Cats OVA on December 3.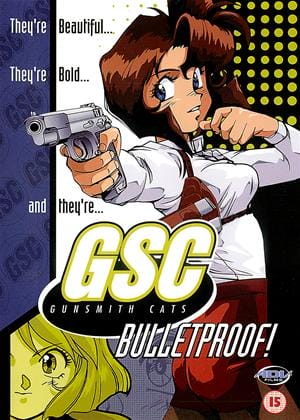 Gunsmith Cats is based on Kenichi Sonoda's manga of the same name. The three-episode OVA was directed by Takeshi Mori (Stratos 4, Vandread) at Oriental Light and Magic, with Kenichi Sonoda (Bubblegum Crisis, Gall Force) and Norihiro Matsubara (Pokémon: Black and White, Berserk) teaming up to provide character designs. Atsuji Kaneko wrote the screenplay.
Jazz drummer Peter Erskine composed the show's soundtrack.
ADV Films released Gunsmith Cats in North America on VHS in 1996. The series received a DVD release in 2001, followed by a re-release under ADV's "Anime Essentials" imprint in 2004. The series has been out of print since the mid-2000s.
ADV described Gunsmith Cats as:
They're here! Chicago's most lethal ladies have finally made it back to DVD. Join the pistol-packing Rally Vincent and her partner, grenade happy Minnie May Hopkins, as they infiltrate a gun running operation at the "suggestion" of the ATF. Burn up the highway in Rally's Shelby GT-500 as she chases a psychopathic Russian assassin who's kidnapped Minnie. And then watch the bullets fly in a duel to the death with a cache of illegal weapons as the prize.
Source: Kickstarter