Get your snacks ready, and prepare for a weekend with the Hestia Familia.
Earlier today, Crunchyroll announced that they will host a 24-hour live streaming event for Memoria Freese (Dan-Memo). The show is slated to kick off on Friday, at 4:00PM Pacific (7:00PM Eastern) on the company's Twitch channel.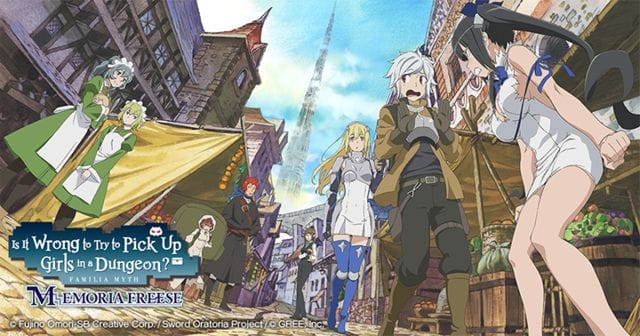 Through the event, the game's producer will introduce elements of the RPG, and show off features from the title as they play through the game. Other planned events include:
Appearances by Voice Actors from the Memoria Freese game and Is It Wrong to Try to Pick Up Girls In A Dungeon? anime
Presentation of the first five episodes of the Is It Wrong to Try to Pick Up Girls in a Dungeon? anime
Reactions to the Memoria Freese game from Crunchyroll
Memoria Freese launched on iOS and Android on March 30.
The game originally launched in Japan on June 19, 2017. The project, which is a collaboration between GREE and J.C. Staff, was developed by GREE's Wright Flyer Studios. The title blends RPG battle and exploration with visual novel-styled story sequences. Players can change the characters' outfits through "Interaction Mode."
Crunchyroll describes Dan-Memo as:
The North American release of MEMORIA FREESE will feature the spectacular voice talents of Yoshitsugu Matsuoka, Inori Minase, Saori Ōnishi, as well as many others, and all dialogue of the game is voiced just like the Japanese version, with English subtitles provided. GREE has designed, developed, and will maintain both the game and copyright control, while Ellation and the Sumitomo Corporation will handle the distribution, localization, and marketing of the game under Ellation's Crunchyroll Games brand.
In February, during the "GA Bunko 2018 Happyō Stage" event at Wonder Festival, it was announced that Is It Wrong to Try to Pick Up Girls in a Dungeon? will receive a second season and a film, titled Is It Wrong to Try to Pick Up Girls in a Dungeon?: Arrow of the Orion.
The first season of Is It Wrong to Try to Pick Up Girls in a Dungeon? aired in the Spring 2015 broadcast season. Yoshiki Yamakawa (Kill Me Baby, Little Busters!) directed the series at J.C. Staff, while Shigeki Kimoto (Sky Girls) provided character designs. Hideki Shirane (Aria the Scarlet Ammo, Queen's Blade: Rebellion) was in charge of series composition.
Sentai Filmworks currently holds the rights to the DanMachi anime TV series. Crunchyroll streamed the show as it aired as part of their simulcast lineup.
Crunchyroll describes the series as:
Based off of a light novel of the same name written by Fujino Omori and illustrated by Suzuhito Yasuda, Is It Wrong to Try and Pick Up Girls in a Dungeon? is set in the world of Orario, where adventurers band together and look for treasures in an underground labyrinth known as Dungeon. However, for Bell Cranel, fame and riches are secondary to what he wants to find the most: girls. He soon finds out though, that anything can happen in Dungeon, and winds up being the damsel in distress instead!
Source: Crunchyroll (Email Communication)